On several occassions orders to print customers have been delayed or cancelled because we were unable to receieve the high res files from the photographers in time, so it's very important that you upload all photos made available for sale in high resolution. Click "Upload print version" in the cog wheel below the photo to upload in high resolution. It's ok to upload in JPG.

To make it as convenient as possible, please always upload in the original resolution from camera when you first upload photos to 1x. It will never be displayed on the web in greater size than 2500 px on the longest side if you have turned high res on in "Account settings" or 1000 px on the longest side if it's turned off.
Our goal is that all photos on 1x should be availble for sale to make 1x more like a real photo gallery and so that the customers are not disappointed to find that their favorite photos are unavailable.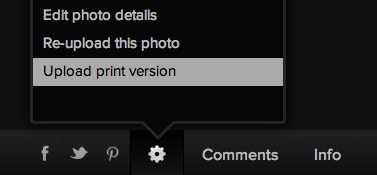 Please upload print versions of all photos you have made available for sale.