by Editor Peter Walmsley



Lots of towns and cities around the world have cherry trees (heck my own garden has one) but cherry blossom (Sakura) watching in Japan is on a different level. It's a national obsession. Originally used to divine the year's harvest, Sakura came to embody Wabi-sabi philosophy and shinto ideals of impermanence, hope and renewal.

Nearly 5m people visited Japan during March and April in 2018 and an estimated 63m people travel to and within Japan to view the blooms (see Bloomberg reference below). Having just done it, I offer insights and advice for those thinking of doing it next year, 2020 (also the year in which Japan hosts the Olympics) because you'll need to start planning now and booking your accommodation.
First the basics: when and where. Cherry blossoms are in full bloom in Japan for only about 1 week which can occur any time between mid March and early May depending on the weather and latitude. In Tokyo this year (2019) full bloom was reached on 27th March, somewhat earlier than usual due to the warm weather. A number of forecasters produce maps which show the timings across the country which start in the south and reach full bloom in the north some 6-7 weeks later.
That in itself makes planning difficult because you have little idea one year in advance about weather conditions but if you are planning a 2 week vacation, aiming for the last week of March through to the first week of April is a fair target.
Bloomberg reports on a project by the Japanese map publishing company 'Shoubunsha' who has tracked 604 Sakura viewing spots across the country and reported visitor figures on 373 locations in 2018. The report can be seen here.

The most popular destination for viewing was Tokyo's Ueno Park with 4m visitors. Practically what that means is that if you are planning a tour from, say Tokyo out to Hiroshima in the west (about 800Km), taking in cities like Kyoto and Osaka on the way, you have a longer window to experience full bloom somewhere along that route because it is on a similar latitude. If going north from Tokyo, you'll be chasing full bloom timing up the country, which is trickier.
Exactly where to go depends on personal preference and from a photographic point of view, it is well worth researching the popular sites in advance on the internet.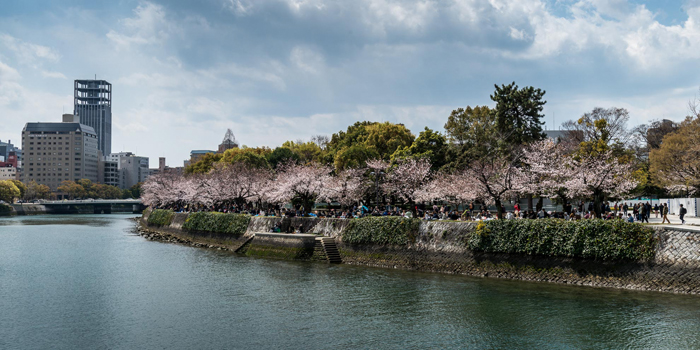 by Peter Walmsley
Most cities publish lists of their popular sites such as this example for Tokyo. Typically this is where there are large collections of trees in a picturesque setting.
* Shinjuku Gyoen National Garden.
* Ueno Park.
* Chidorigafuchi.
* Sumida Park in Taito-ku.
* Inokashira Park.
* Megurogawa (Meguro River)
* Yoyogi Park.
* Koishikawa Korakuen Gardens.
If you have time, sample a few locations. Have a good walk around and see what catches your eye to photograph such as these two images:

Bear in mind that there will usually be lots of people around and I do mean lots, many of whom will be wanting their own portraits, groups shots and selfies against the trees. At many sites, the Japanese visitors wear traditional dress for their outings.
Taking pictures of the other photographers is a valid target too! Cherry blossom time is also an excuse to picnic and increasingly commercial organisations offer food and drink tailored to the occasion. Prime viewing spots can in some locations also be reserved in advance for a fee.
Weather and time of day are additional factors to bear in mind. Whilst pink and white blossom against a blue sky provide attractive contrast, it also rains in Japan and in this situation a focus on the blossoms to the exclusion of the grey and white clouds is probably the best approach. Don't forget to be creative with depth of field either: a blanket of out-of-focus petals against which some strategically sharp flower heads are placed can work well but as with all outdoor flower photography, wind movement can prove a challenge.

Increasingly some of the bigger temples are opening up in the evening with illuminated Sakura trails and these offer opportunity for blue hour and night shots where the blossoms are artificially lit. It's often less crowded at these times and use of a tripod is not out of the question.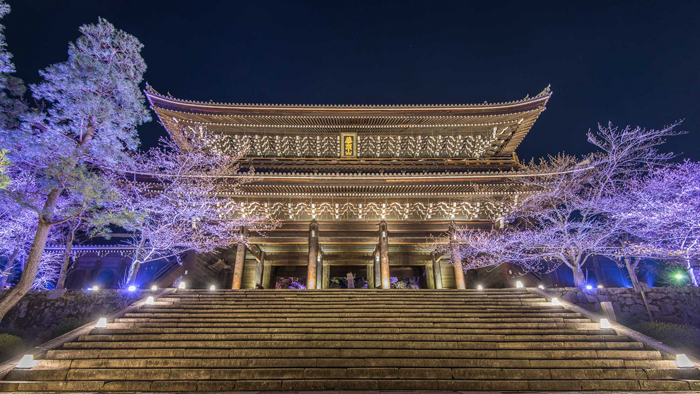 by Peter Walmsley

The Meguro river in Tokyo is also a popular night-time location with over 800 trees along a 4Km stretch of river punctuated at frequent intervals by bridges which afford a view down the tree line. Pink lanterns line the route and white uplighters illuminate the blooms which reflect in the water, although the river itself flows down a rather less attractive concrete channel. It's also very crowded with hanami (cherry blossom viewing) revellers with police controlling the crowds on the bridges and you have to be rather assertive to get a good photographic viewing spot. Use of a tripod is possible, but only just and 'clamping' the camera to the rails of the bridge for long exposures shouldn't be ruled out.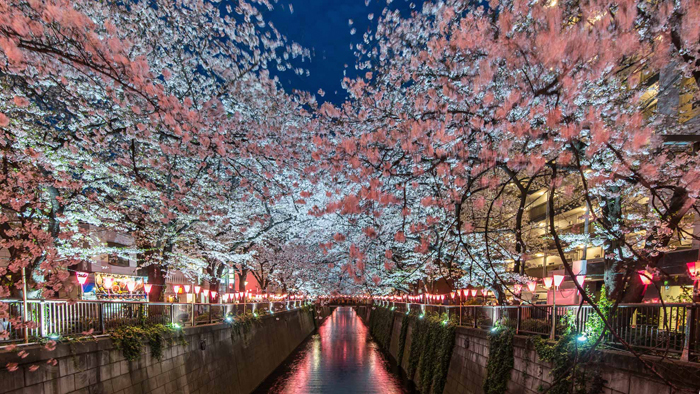 by Peter Walmsley