Briefly tell us about yourself, your hobbies and other jobs.
I'm an old woman, love my family, my plants, and my photography.

Which are your most important experiences that have influenced your art?
A severe head injury in 1987 caused me to take stock of my life, and to relearn how to concentrate was very difficult. Bonsai, then photography have helped me to do that. I still don't cope well with crowds and loud noises, so I'm a bit of a hermit. Taking photos and being online keeps me busy these days.
Experiences with the camera and the various bits of kit have helped shape my techniques. Learning to stop being cautious about expensive equipment and freeing up my mind on what constitutes a good photo have all helped to form my style. My images can be a little polarizing, however that doesn't bother me.

What first attracted you to photography?
I wanted to take photos of my carnivorous plants, so with absolutely no knowledge I bought a second hand SLR and some film. Needless to say the lens that came with the camera didn't allow me to produce macro images, so I joined a camera club to help me learn how to use the camera/lens that I had. I was impatient, and so bought a second-hand digital camera for Christmas 2003. From there I improved in leaps and bounds, being able to see results immediately.
Three months later I bought a Canon Powershot Pro1, and 7 months after that I bought a Canon 20D with a fisheye lens and a 28 – 135mm lens. I was happily taking photos of landscapes everywhere I went, but by 2005 I was feeling the need to get back to my plants. I bought a lensbaby, which forced me to use my camera on aperture mode, and from there I was able to start getting creative, as well as take close ups. I also had the Powershot Pro1 converted to full time infrared, and used it for many years to take those otherworldly infrared images.

Describe your overall photographic vision.
I can't say I have a vision, other than to try and produce work that's a little different from the mainstream.

Why are you so drawn by Fine Nude Art photography?
I think I've fallen into Fine Art Nude photography purely because I'm getting too old to get up in the mornings and shoot sunrises. Since my back has started to cause so many problems for me, I also can't walk very far. I can at least sit down regularly when I'm in my studio.
What is more important to you, the mood/story behind your images or the technical perfection?
Definitely the mood or story, but in saying that, I think I've learned enough about camera technique to finally get my exposure right as well.
What generally is your relationship to your subject matter beyond being an observer?
Most of the models I work with are professionals, and over time we generally become friends too. I feel I can't get a decent photo of someone I'm uncomfortable with. I'm not very good at envisioning what results I want, especially outside. I'm much more likely to try to arrange a set in my studio, and hope that the models can work their magic in that space.
What gear do you take with you and what software do you use to process your images?
These days I use my home made lens, lensbabies, Petzval art lens, Helios 44/2, and a 24-70mm lens, along with my Sony A7R II and my Sony A7R infrared. Because I have an old computer and very slow internet, I haven't bothered with CC, and Lightroom won't open my Sony raw files, so these days I use Alien Skin Exposure to convert my raw files to black and white, occasionally to colour. I also bought Capture One Pro, which is my fall back.
Can you tell us something more about your workflow?
From raw to finished image usually takes a couple of minutes. When I shoot with my arty lenses there's no point in trying to mess with the results, you have to catch what you want in the camera. I shoot wide open, so dust spots aren't usually visible, and the blur from the lenses means trying to clone out a mistake is impossible. Generally I just use the black and white conversions with a warm platinum tone, some grain, and bokeh, (If I've used the straight lens.)
What is your most important advice to a beginner in Fine Nude Art Photography and how do you get started?
I went to a couple of workshops for nudes, which was an horrendous experience for me. We were taught to give the model space, don't touch the model, but ask them to rearrange hair etc, and to be understanding of the model's feelings. Sad to say some of the males in the group behaved dreadfully, and I felt that I'd never want to witness that again.
Luckily for me I was able to shoot one-on-one with a keen male nude, who, along with my shooting self-portraits, gave me back some enthusiasm. So my advice would be this, try to do self-portraits, or see if you can find a person to model, who will allow you to learn about angles and lighting without the pressure of a crowd of photographers. Keep your hands to yourself, and at all times respect the model.
Who are your favorite photographers and more importantly, how has the appreciation of their work affected how you approach your own photography?
I've only just started to spend time looking at other photographers work, and I'd have to say that Lillian Bassman's work really does tick all the boxes for me. I saw an image of hers back in 2014, that made me go Wow! I've since bought some of her books, and looked at a lot of her remaining images. She destroyed a lot of her early work, sadly, but even in her 80's and 90's she was producing images that still made me go Wow!
To that end, I'm always trying to find the light, and use it in ways that enhances the lens results.
Is there any specific photo taken by another photographer that has inspired you a big deal and why?
This is the image I found back in 2014.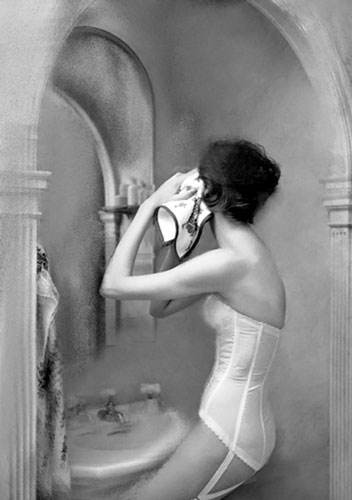 Are there any specific directions that you would like to take your photography in the future or any specific goals that you wish to achieve?
Lately the goals I have are just to be able to remain upright for long enough to do an occasional shoot.

Describe your favorite photograph taken by you and why it is special to you?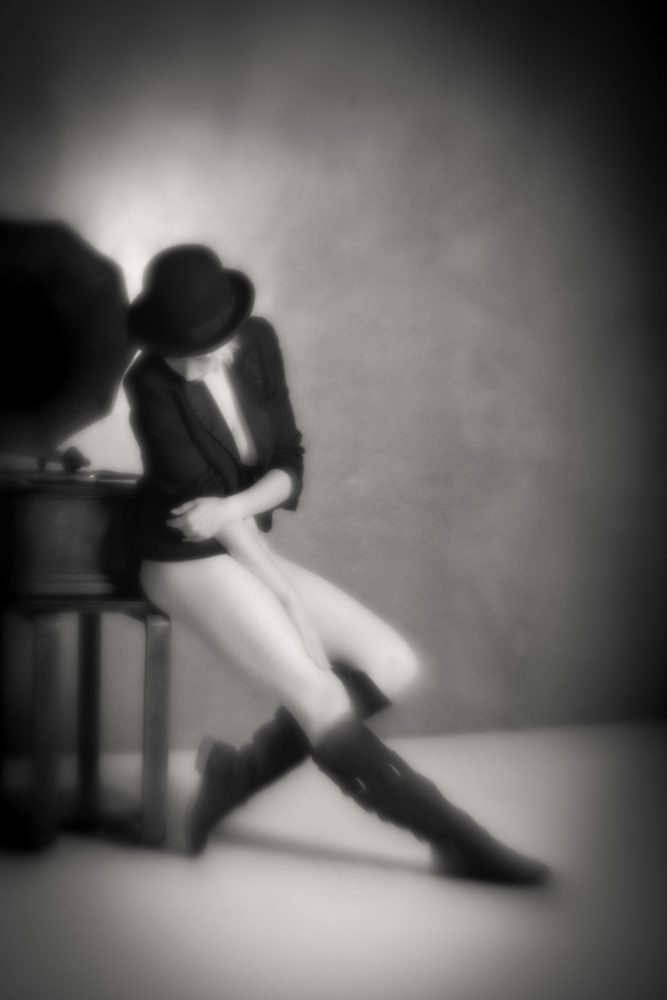 This is one of my favorite shots, I just love the mood here. A very talented model and some props can make a Wow shot when it all comes together. I would say that the majority of my favorite shots were taken with lensbaby or my hand made lens.

Is there anything else you wish to add and what do you think about 1X as a home base for your work?
It's nice to have a 1x portfolio; it gives a good overview of my work from when I first joined. It also shows my evolution from landscapes to portraits to nudes, with a little photo compilation thrown in as well.