Chrisopher Schlaf is awarded Photographer of the Week, thanks to his outstanding wild life photos, especially bird photography, where he has mastered capturing birds in action and freezing their movements with crystal clear sharpness. Thanks to Yvette Depaepe for interviewing Christoph!
Briefly tell us about yourself, your hobbies and other jobs.

I am an automotive body designer and currently work for a Faurecia in Michigan. Photography is my main hobby; however, I enjoy playing sports—just about every sport you can think of—but my favorite is ice hockey. Now that I am 51 years old, I do not participate in sports as much as I used to, especially since my family and my addiction to photography are my priorities these days. I am married and I have three young children: two 7-year-old twins, one of whom suffers from the challenging disorder Autism, and an 11-year-old.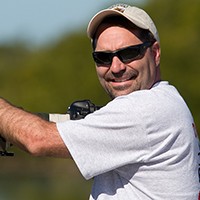 How have your history and life experiences affected your photography? Which are your most important experiences that have influenced your art?
As a child, I was very fortunate to have parents who supported my desire to have all sorts of wild critters as pets. In fact, they often helped me find them and afterward, my father built cages for each of them. At one point, I was quite proud to be raising snakes, turtles, ducks and a rabbit all at the same time. For as long as I can remember, I have had an equal love for animals and for nature. And now I find that my photography allows me to travel back in time to my childhood, to recall the special bonds I made with a variety of animals and to reminisce about the many wonderful years I spent surrounded by nature. It always takes me back to that happy place J.
After taking and viewing thousands of images, I have definitely discovered what I like and do not like when it comes to my own photography. Over the years I have found that my images are much more successful if I avoid two specific things: harsh, midday light and a busy, distracting background.
Describe your overall photographic vision.
I prefer action imagery that contains interesting, unusual and/or extraordinary animal behavior. Crisp, sharp images with great clarity are a must. A smooth, seamless background is also a necessity, especially one that enhances the subject by incorporating soft, colorful components in the composition. This way the background not only complements and balances the movement of the subject, but it remains a distant, out-of-focus and non-distracting supporting element in every image. And of course, I would be remiss if I did not mention that the first and most important requirement is shooting in exceptional light. If the light is poor, my camera does not even come out of my bag.
What first attracted you to photography?
My first digital camera was a Canon G2. I enjoyed using it casually, but when I analyzed the images I made with it, I became increasingly frustrated with my results. Why did one frame look so good and the very next frame look so bad? That was when I officially caught the photography bug—I was determined to figure out my mistakes and conquer that G2 beast! Slowly but surely my new challenge developed into an obsession that remains within me to this day.
Which is more important to you: the story behind an image or the technical perfection?
I recently won the Trierenberg Super Circuit competition (2013). During an interview with the local newspaper I was asked what story I was trying to tell with my images, but I came up empty-handed. The reason is simple. In my opinion, nature photography is all about capturing the situation that unfolds before my eyes, being alert for whatever may happen on a moment's notice, and being technically prepared at precisely the right time and place. In my business, a fraction of a second can make all the difference between a remarkably great photo and a supremely lousy one. My sole intention is to show the viewer the scenes that I witness and to document them exactly as they played out. And to do that, it is key that my photos are technically perfect.
Who are your favorite photographers and more importantly, how has your appreciation of their work affected how you approach your own photography?
My favorite photographers are Marsel Van Oosten and Marina Cano. Both are members here and I highly recommend checking out their portfolios if you have not yet seen them.
I really cannot say that I have been affected personally by anyone specific, mainly because I have my own way of approaching photography that works for me, but also because I am limited to only shooting in the area where I live.
One of my all-time favorite images is "Kenya" by Marina Cano.
That amazingly beautiful image has it all: great light, mood, atmosphere and, well, the elephant is simply the icing on the cake.
Are there any specific directions that you would like to take your photography in the future or any specific goals that you wish to achieve?
Ha ha J I would actually like to make a little income from this eventually, but I have not been able to figure out how to do that quite yet. Other than that, I am always thinking of new techniques and trying new ideas. Sometimes when I am driving, I become so preoccupied thinking about how I might set up the next photo that I completely pass my exit off the highway. I admit it…I can get a little too absorbed! Ha ha! Another goal of mine is to become adept at digital art. Most days I view the newest photos on 1x and wonder if I could produce the high caliber digital art that many of the talented folks here create. But once again, just as the Canon G2 tested my patience long ago, I am hopeful that I will get there in time.
Describe your favorite photograph which you have taken yourself and why it is special and important to you?
Actually, my all-time favorite is not here on 1x. The image is a swan chasing a Canada goose, and it is special to me because it has a little bit of everything: power, action, splashing, perfect light and sharp details. I made a very large canvas print of it, and it hangs in my great room where I see it every day.
I still really enjoy looking at it.
But there is one image that I like to share here with you. A funny little anecdote and an image from me. I was taking some photos of puppies and on came up and scratched my nose! Here is the result:
The victim and the offender: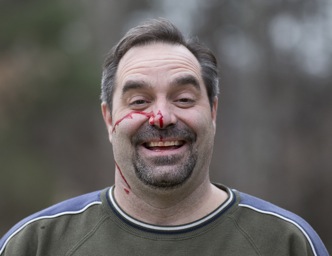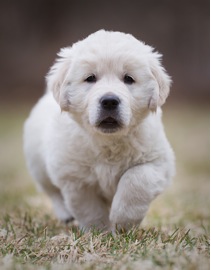 Is there anything else you wish to add?
I want to say that I very much appreciate the comments that I receive on my images. As some of you may have noticed, I am not the best typist. So even though I may not always reply, please know that I do read and thoroughly enjoy each and every word that you write. Many, many thanks for giving me the opportunity to share my thoughts and experiences with you, and for all of your support and encouragement. I am very happy to be part of this unique and special 1x community—it's a place that I can easily call home.