If I told you that you could throw 36 cameras into the air all at once, instantly take a 360° × 360° panoramic image and then catch all of the cameras before they hit the ground, would you believe me?
Well, believe me because you will be able to very soon!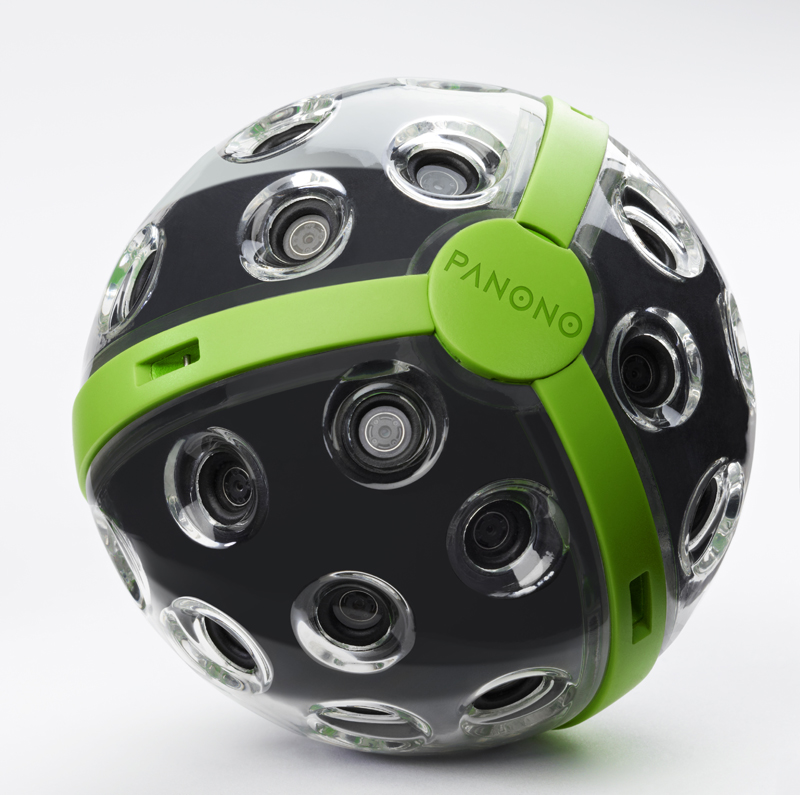 The Panono Camera is the first 108 megapixel panoramic ball camera that you can literally toss straight into the air and capture everything in every direction all at once. It's the size of a grapefruit and contains 36 tiny cameras that capture 36 images at the same time. The images are then stitched together at the speed of light and sent to your mobile device to view and share.
At the time, the Panono was the fifth most successful crowdfunding campaign at Indiegogo, raising a whopping $1.25 million last year, and the first Panonos are soon to ship out around the world.
How does it work? Simple. Just throw the Panono into the air and let it do its magic. The built-in accelerometer determines when it has reached its highest point, and in that split second when it's barely moving, it simultaneously triggers all 36 3-megapixel, fixed-focus cameras and captures a full-spherical, high-resolution panoramic image.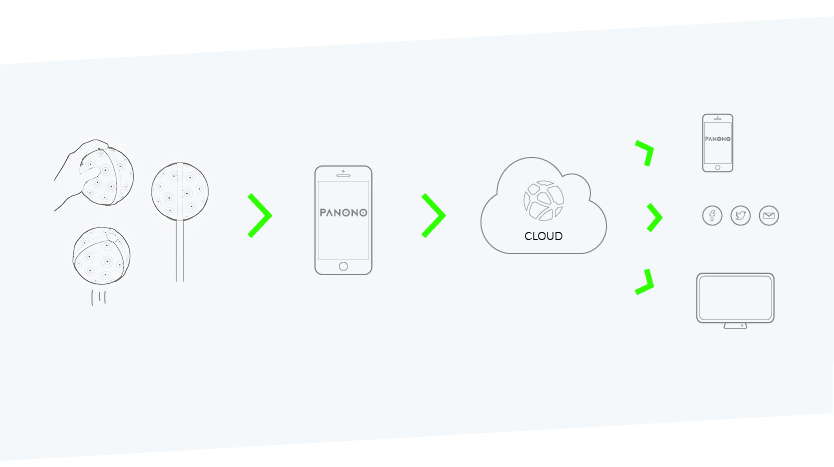 A 360° × 360° preview is instantly sent to your smartphone or tablet via WiFi. The 36 images are then pushed to the Panono Cloud where they are seamlessly stitched together and available for uploading to the web or viewing in the Panono app on your mobile device (Android and iOS). The Panono itself is capable of storing 400 shots that can be downloaded to your computer via USB or WiFi. You can even play with the single files and stitch them together yourself if you so choose.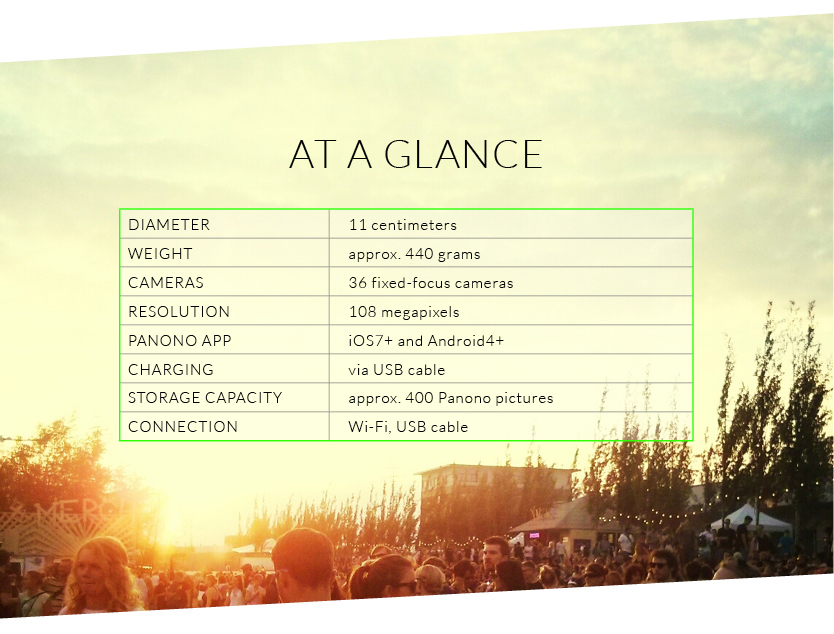 Viewing the spherical panorama on a mobile device allows you to experience each captured moment as if you are actually inside the image. You simply move your tablet or smartphone left, right, up, down – all around and in any direction – and you can zoom in as you spin around to see the finer details of the shot. The panoramas can be viewed in a web browser as well, in a similar way that you use Google Street View.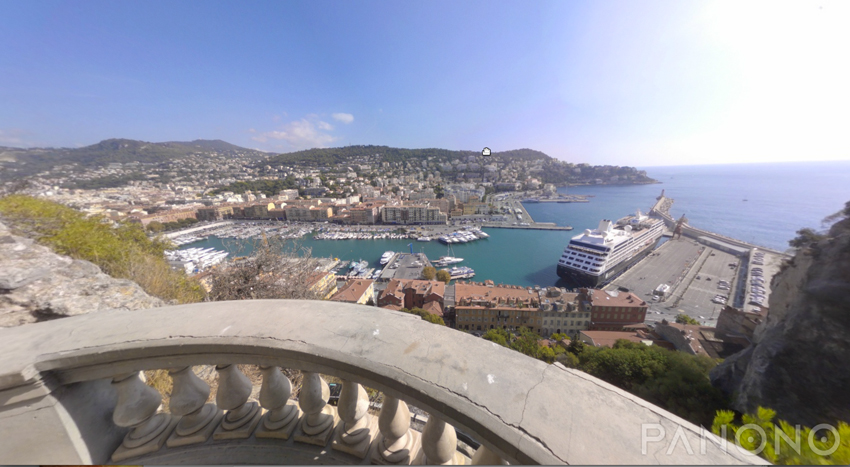 Click the image and see for yourself. Just move your smartphone or tablet to view any direction.
Even though tossing the Panono is, let's face it, the most irresistible way to use it, there are other options to snap a panorama. For stability and/or low light situations, it can be mounted on a tripod, its own selfie stick or placed on a table and fired remotely by your mobile device. You can also hold it and press the button to shoot. Attachment points have recently been added so you can hang it from a ceiling or tree, and an indicator light will let you know if the lighting or rotation conditions were optimal to capture a quality image.
The durable plastic casing has been specially designed to protect the tiny cameras inside, just in case you drop it on its return to earth. So the Panono can take some impact, but of course, it's advisable that you catch it most of the time.
The concept behind the Panono is to revolutionize the camera industry and to become "the GoPro for photography," president, co-founder and Panono creator Jonas Pfeil said. He came up with the idea as part of his master's thesis in computer engineering at the Technical University of Berlin. Pfeil said that in 2013 he "published it on YouTube and received enormous amounts of feedback." I'll say! He received over 3.5 million views, in fact, and numerous requests to purchase the camera too. And that's what got this whole ball rolling.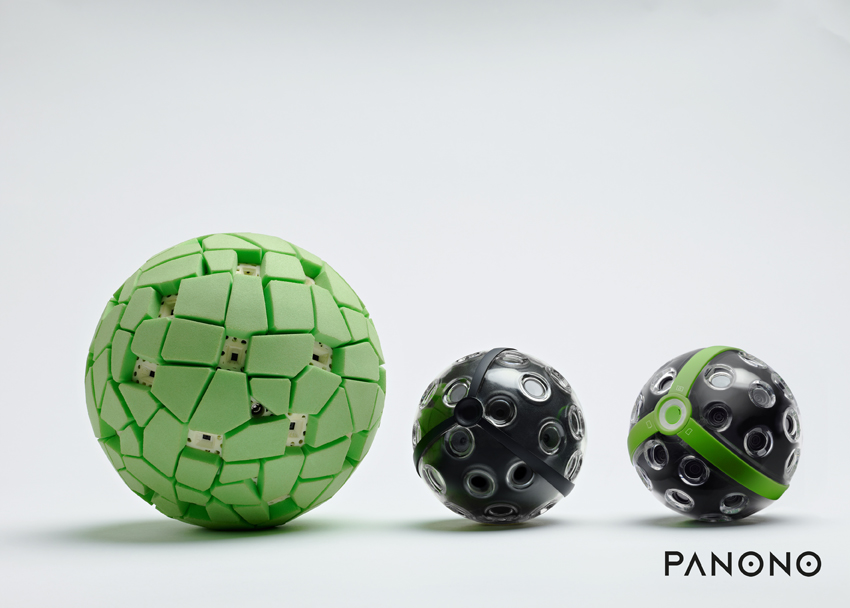 The evolution of the Panono
"We're creating an entirely new panoramic-photography experience, one that can finally include people and is social," Pfeil said. "Until now, it's been impossible to take good panoramic shots with people in them because people move in between shots and cause ghosting. Since all of Panono's 36 cameras fire at once in every direction, it captures an instant in time that includes everyone – even the photographer – in a blur-free panoramic image."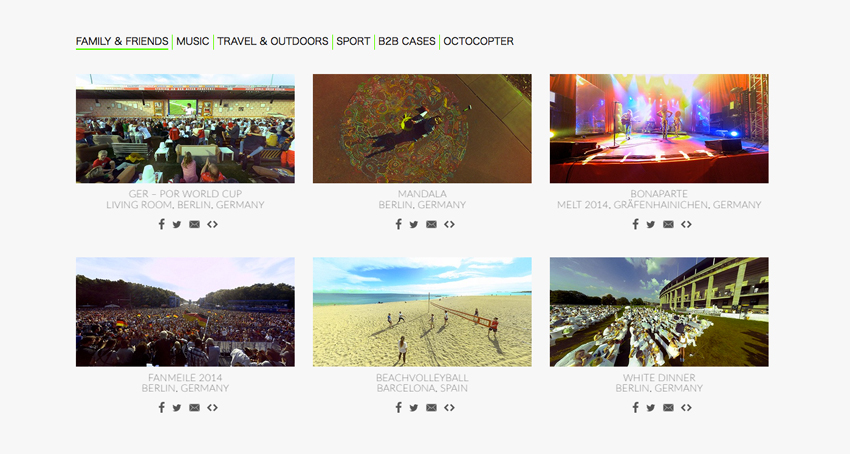 Click the image to view more panoramas on Panono.com
The first Panonos will be shipped this summer to the eagerly awaiting Indiegogo backers. You can be next on the list if you'd like to preorder your very own Panono by visiting the store on the Panono website. While the $599/€599 price tag may seem a bit steep, keep in mind that you will be one of the first to experience and share the revolution of cutting-edge, high-resolution panoramic photography. Sounds super exciting to me!
Photos and video courtesy Panono