by Editor Sebastian Vasiu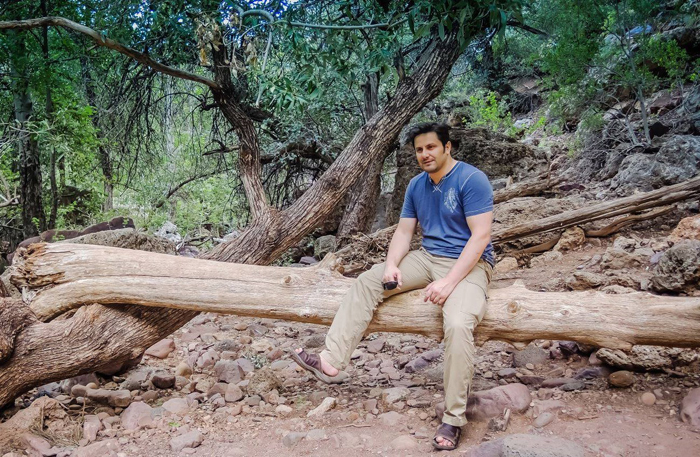 Mircea Goia hiking in Arizona

Mircea Goia is an accomplished Romanian photographer who lives in the USA.
It's been 11 years since he left Romania for his American dream. In the meantime, that dream has become reality. We took our time to talk to Mircea Goia for our magazine "Fotografia Romaneasca"
and we've found out that besides the passion for photography he has passions for other things like film, technology and journalism.
Mircea is also a film producer besides his main activity in technology. One of the best known movies he was involved with is "Ingenious" (2009), where the future star Jeremy Renner played a lead role (later known for roles in 'Mission Impossible', 'Avengers', 'Bourne Legacy' and most recently 'Arrival'). He is also a part time journalist, working as a correspondent for the leading Romanian newspaper "Adevarul" writing about various themes such as technology, film, science, Internet and business.
We also found out some little secrets about the person: He doesn't like mornings, he likes the mountains and traveling, but also space and space travel.
Him being a 'night owl' not unexpectedly we saw many night photography images among his photos.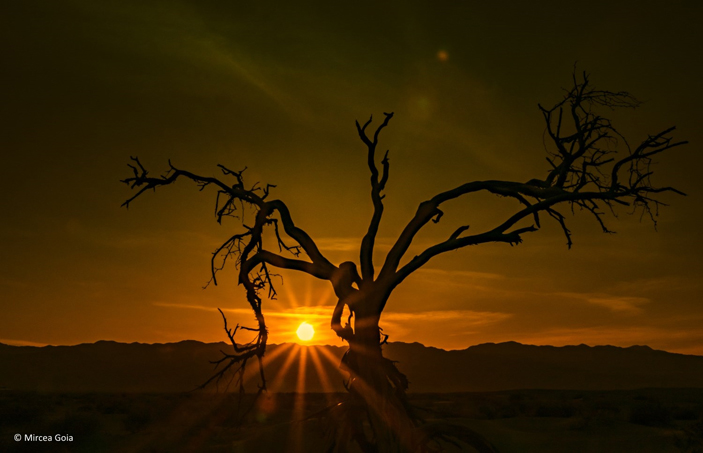 Stovepipe Wells Sand Dunes, Death Valley - California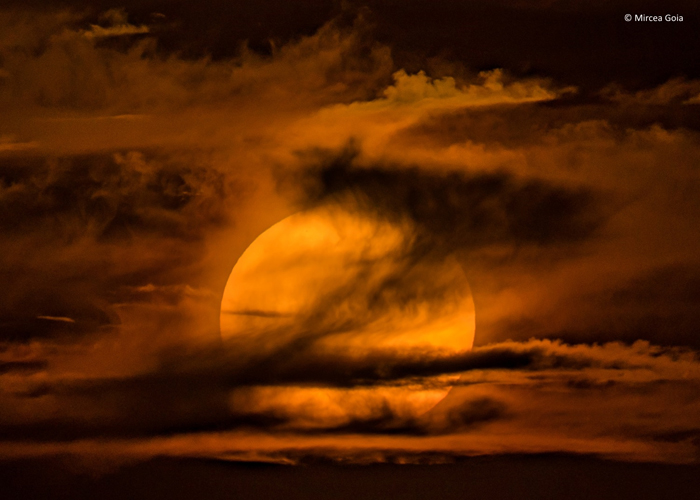 Sunsetting in Phoenix, Arizona
Please tell us about you and about the things you are involved with, Mircea.
I am a Romanian immigrant in the USA and came here in 2005. I was one of the lucky ones, winning the Diversity Lottery visa (a US government program in which 50.000 people around the world are selected to receive the immigration visa).
This so called lottery is held each year during the months of October-November and millions are registering every year.
One year I lived on the East coast, in a small town in the state of West Virginia. That small town reminded me of my hometown in Romania: Lupeni. It had the same feel of a coal mining town as my hometown did. All of West Virginia is a coal mining oriented state. That year I was unemployed. Nobody wanted to hire me, although I was a web developer (and I had worked in that field in my country too, after having left the coal mines – and yes, I did work in coal mining in my hometown). The main reason nobody would hire me was that I didn't have American work experience, although web programming and computers are the same in the US as they are in Romania.
However after a year a company on the West coast (Phoenix-Arizona) gave me a chance and offered me a job after an interview. So I moved here, where I still live.
After several years in the US I started a project called "Romanian StartUps" which is an online project trying to be a focal point where you can find everything you need to know about the Romanian technology startup scene. It's in English, because I wanted foreigners to know about it too. In the three years since it's start, the project has become a reference point for anyone who wants to find out more about Romanian enterprises, and it appeared also in the Romanian and foreign press.
Beside technology, I am also involved in the film making scene. I cooperated on some film projects, both American and Romanian, as producer (with credits on IMDB). The passion for film I have since childhood and in the future I may try to change careers again,moving into directing.
How does the photography help you in your professional and personal life? Is there a connection?Photography is a recent hobby of mine, more recent than film making. Up to about a year ago, I was using only point and shoot cameras (on automatic) but then I wanted to experiment with some more serious equipment. So I bought a Sony RX10 II camera which also has fully manual mode. It was a bridge camera, not entirely a DSLR, but not a point and shoot either. It was the top of the line in the bridge camera area. This year I bought the next generation: Sony RX10 III (its reach - a lens of 24-600mm – helps me a lot when comparing it with last year's version).
Photography helps me in film making, teaching me how to have a "cinematic eye" (especially for composition). Maybe this is why I started with landscape photography and continued with experiments in macro-photography, highspeed photography, astro photography, night-photography and ultimately experimenting with portrait-photography.
Some well-known film directors, like Stanley Kubrick, Spike Jonze, started as photographers and this can be seen in their film work.
My intention is not to become a professional photographer, that's why I got a bridge camera and not a DSLR. Plus, a bridge camera gives me more freedom (I hate carrying many lenses around with me).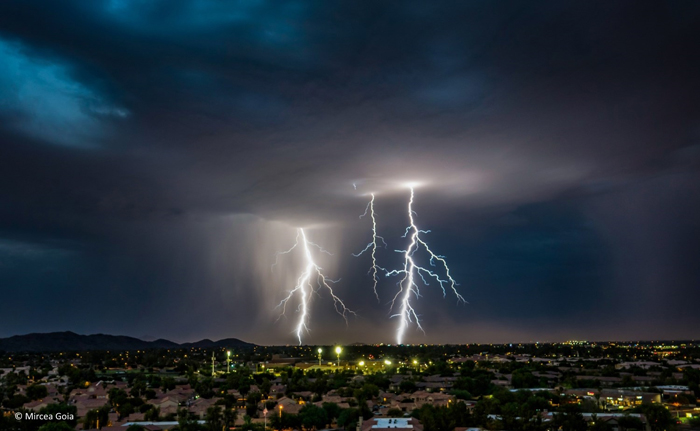 Lightnings over Chandler-Arizona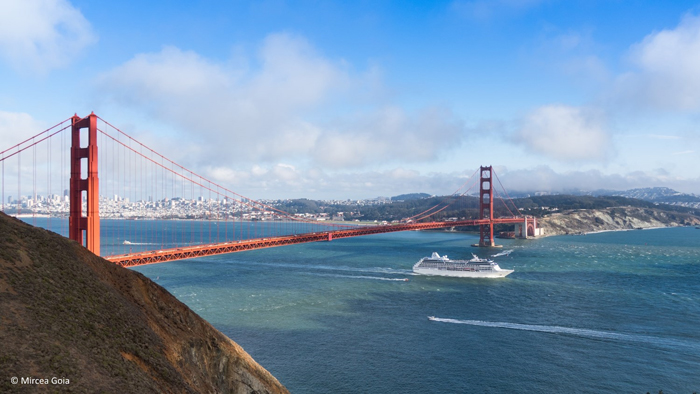 Golden Gate Bridge – San Francisco
How did your passion for photography start? What attracted you to it?
I started actually with a camcorder which had the option to capture still photos also. Coming to America made me videotape part of my journey and life here. I used the photo option to take quick photos to send to friends back in Romania, so they knew what I was up to (at that time, 2005, there wasn't a quick way to send videos over the Internet straight from the camera).
Five years ago I bought my first point and shoot camera, because it was better than the camcorder in taking pictures. Traveling around the US meant for me taking more and more pictures, which made photography gaining more ground for me personally, however remaining as a hobby.
So, my path to photography was driven over time by necessity.
On the artistic side, what were things that influenced you?
I am attracted mainly by landscape photography, probably because I wanted to show others what I see in my travels.
As a landscape photographer, I don't think I have role models (other photographers) in my mind. I don't think that interested me too much although after a while I started to follow some of them). All what I have learnt about photography was auto-didactic, using Internet's written or video tutorials and practicing a lot. The talent, was discovered after a lot of practice and some say that I have some.
What is your approach to photography? What genre do you specialize in?
Like I said, I started with landscape photography. I like to show others what I see here. This part of America, the Southwest, is exotic and beautiful and it deserved to be seen by others, especially in Romania (it's totally different from Romania's landscape).
Landscape photography remains, for now, the main attraction for me. But because my camera allows for other types of photography too (macro, astro, highspeed, etc), I am also experimenting with those. Not being a professional and not earning my living from it, allows me to play.
What do you think is more important for a good photo: the technique or the story?
Photography is a combination of art and technology. There are some technical rules, on which people in general agree, which makes a photo look good from the technical standpoint. When that photo is technically good but also makes you feel something (the story, the message) then that photo is also good from an artistic standpoint. It's not one or another, it's both.
Of course, once you are mastering these rules you can break them.
Tell us about the best moment you lived in one of your photography sessions.
It's hard to say what was the most beautiful moment on my photography journeys.
One could pick the moment when I first managed to capture the Milky Way in all its splendor. When I had a point and shoot camera, I couldn't think about doing night/astro-photography.
That happened spontaneously at the end of a nine day road trip I had taken throughout the West, Las Vegas, Death Valley, Mono Lake, Yosemite Park, Lake Tahoe, Napa Valley, San Francisco, Pacific Coast Highway 1, Los Angeles and back to Phoenix-Arizona (where I live).

Just before entering the Phoenix area, 80 miles outside of the city, I looked up and saw the stars very clearly up in the sky. Arizona has some of the darkest skies out there, once you leave the city. I stopped at a rest area in the middle of nowhere and snapped several pictures of the Milky Way – playing with the ISO and exposure times, which, at home, turned out to look quite good. I sent one of them to Arizona Central, which is the main newspaper in Arizona, and they have published it on their Facebook and Instagram page. It was the second photograph of mine published by this newspaper and the first to rack thousands of likes and shares. Since then, other local publications and TV stations published my various photos.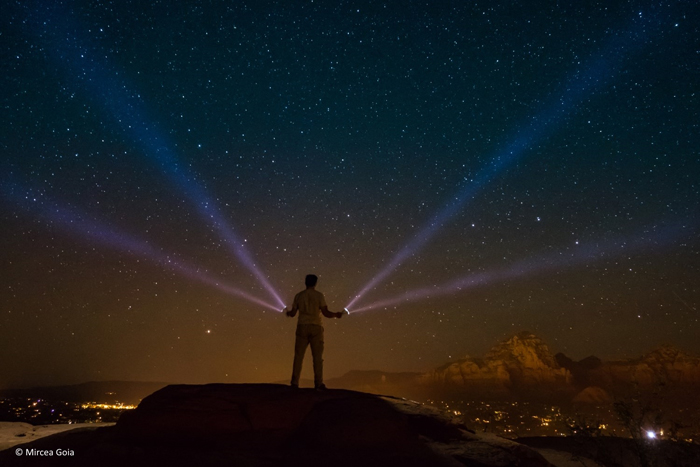 Milky Way at Sedona, Arizona
What are some of the photos you hold dear? Tells us a bit of the stories behind them.
Again, it's hard to choose what my preferred pictures are, from all I have taken. One is the one above, showing the Milky Way.
Another one could be the "Vortex at Superstition Mountains - Arizona". I wanted to shoot some lightnings near this legendary Arizonan mountain. Everything was in place: the mountain, the timing (at sunset), the clouds (lots of them – because of the monsoon season). But I spent over an hour there and not a single lightning appeared. So I photographed the mountain with the clouds above. The clouds moved slowly in a circular trajectory and that made me expose the photo for seconds to capture that circular movement. In turn the clouds look like a vortex which opened above me.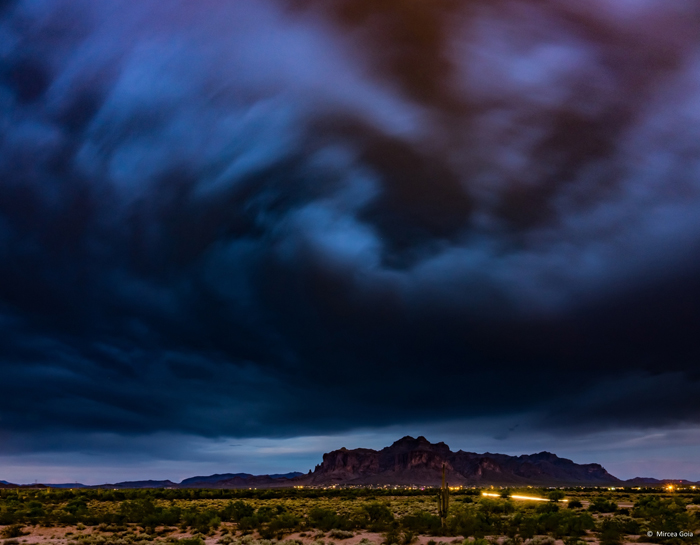 The photo named "Atlas 5 rocket with TDRS-K communication satellite at NASA-Cape Canaveral-Florida" was taken three years ago while visiting NASA Kennedy Space Center where I was invited with other social media people (yes, I am active on social media) to take part on a live rocket launch. That's how a childhood dream became reality: watching a live rocket launch (I was passionate about astronomy, astronautics since I was a little kid – I even built my own crude telescope at that time).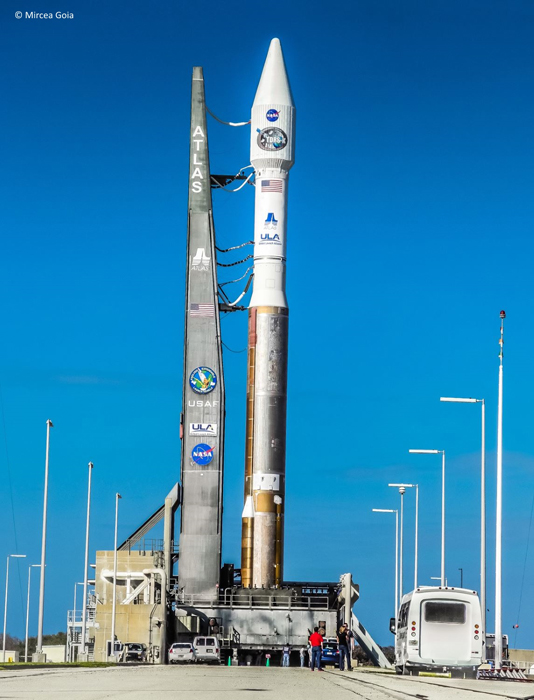 I am a fan of sunsets and Arizona is blessed when it comes to those. It has unique sunsets, partially because of the dust found in the upper atmosphere. Sunrises don't get me awake. But at the beginning of this year I managed to capture a sunrise, the first of 2016, because I spent the New Year at Monument Valley, which is a unique and overwhelming place and a landscape photographer's heaven. You can see it in "Monument Valley-Arizona-sunrise on 1st of Jan 2016".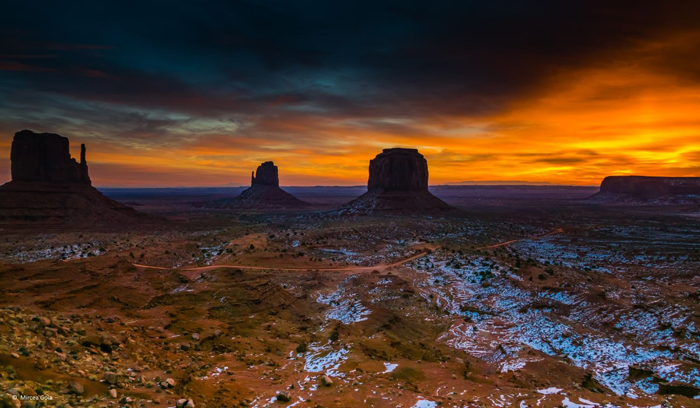 I can't forget the landscape from the photo "Death Valley-Zabriskie Point Badlands" because it was there where I had a rather bad sunburn of my legs. I visited Death Valley at the end of August (the same trip in which, at the end of it, I photographed the Milky Way for the first time) when the temperatures were in the high 120s F (50 C). Not a good time to visit, but I didn't know that at the time.
I couldn't stay there for more than 20 minutes because of the heat and because my camera was literally burning my hands. I am used to high temperatures by living in Arizona but this was too much even for me. The sunburns on my legs took 2-3 weeks to heal.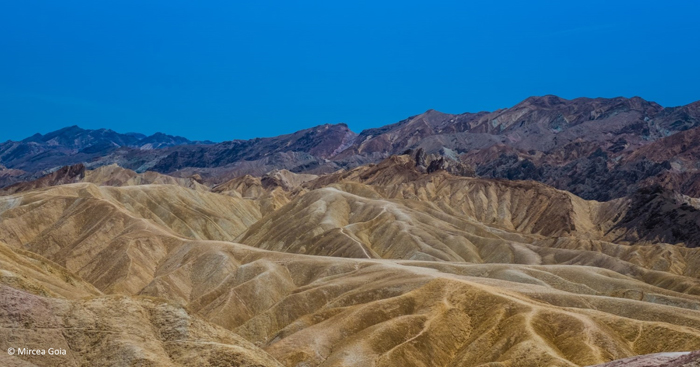 In the beginning of this fall there was the Harvest Moon (and a Penumbral Lunar Eclipse to go with). I spent several hours in Fountain Hills-Arizona calculating the paths of the airplanes so I could get one crossing over the Moon. In the end I managed to capture the last plane for that day in "Airplane passing the harvest moon at Fountain Hills-Arizona".
A photo I took recently was "Kilauea volcano lava flowing into the Pacific ocean". This was after several hours of a grueling hike throughout the lava fields on the big island of Hawaii. At the end of the hike (which got us very close to the actual lava flowing) we reached the point where also the lava flows into the ocean. I was quite exhausted (not easy to walk on the lava fields) but I managed to snap this picture as the sickle Moon was right above the flames. At that point I was about half a mile from the lava.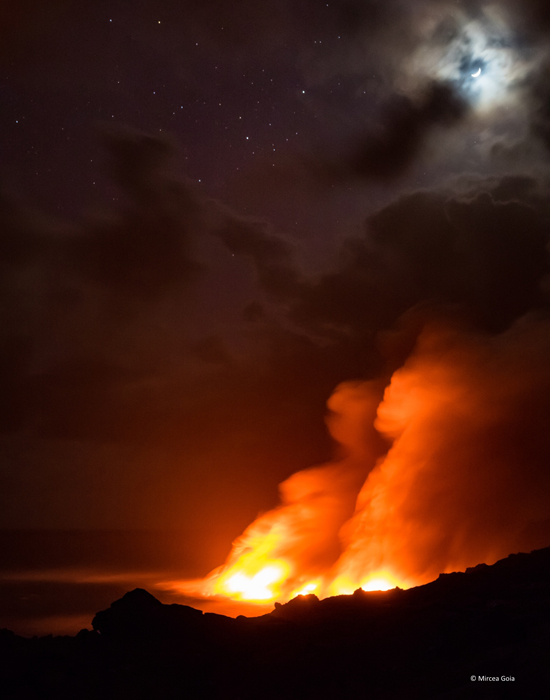 I spent the sunset on Mauna Kea mountain (on the big island of Hawaii, the highest peak on Hawaii) and this was one of my best sunsets ever, especially as there were astronomical observatories there too. You can see the photo "Mauna Kea astronomical observatory" where the clouds started to blanket the area right under the peak of the mountain.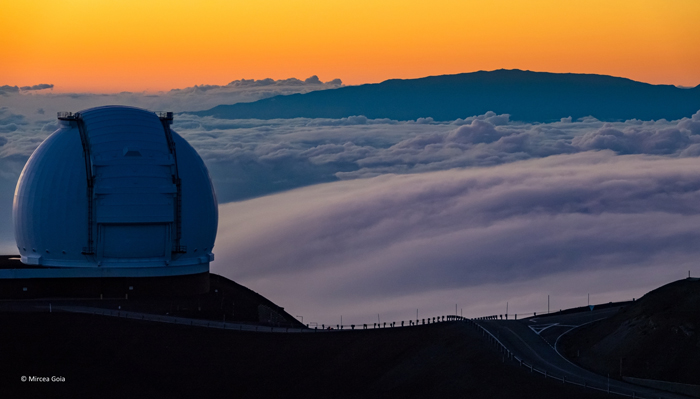 When Ionut Turda (a good friend of mine) came to Arizona from Romania to film the Grand Canyon for his project "Around the World in 4K" (filming in 4K/6K resolutions well known landmarks of the world) I was his guide throughout the state. I snapped a picture of him, "Ionuț Turda from Around the World 4K filming and admiring at the Grand Canyon-Arizona", staring in awe at the greatness of the Grand Canyon.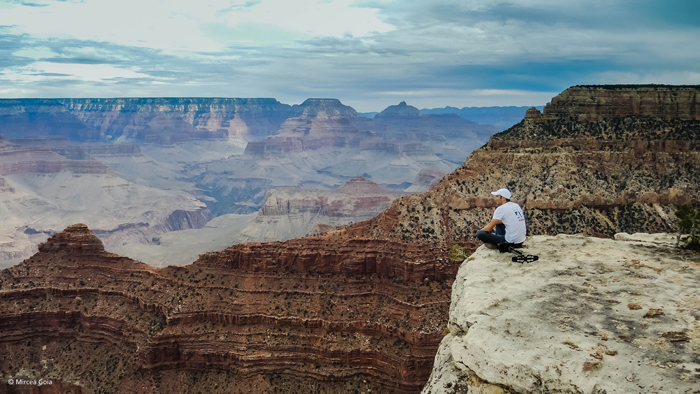 What equipment do you use? What editing software?
The most recent camera I got is the new Sony RX10 III (the better version of RX10 II – which was my first full manual camera). I like it because it is quite compact yet it feels like a DSLR. It has a very good lens (the best in its class) with a range of 24mm to 600mm (35 mm sensor equivalent). The sensor is small, 1 inch, but the glass is of superior Zeiss quality (the price is also the highest in this class of cameras). The lens is fixed which means it cannot be changed, like in DSLRs. This gives me the mobility I want. I recommend this camera to anyone intermediate and even advanced in photography. It is good especially for travel.
I am also using a tripod, especially for night and astro-photography (or time lapses).
As editing/processing software I am using what most photographers are using: Adobe Lightroom. Sometimes I use Photoshop, but rarely. I want to try the software Aurora from the known landscape photographer Trey Ratcliff but I am waiting until they come out with a Windows version (yes, I am not using a Mac).
What is the key to your success in what you have accomplished so far? If you would have to start over what would you change?
I am not sure I have the key to success. And if I have it, it probably fits only into some doors.
I think that being successful in something you first need to have a strong interest in that something. To be passionate about it. Once you have this, you can auto-educate yourself about it (especially in this era of information at your fingertips), then, in time, you come up with your own touch and, by being perseverant, you will reach your goal.
Would I change something if I would have to start over? Oh yes! I would change a few things. The one who wouldn't change anything either didn't learn anything, is lazy or had a really perfect life. But I don't believe in a perfect person with a perfect life. I do believe though in a perfectible person and life.
I would not have wasted time working in the coal mine back in my country (although I didn't have an alternative at that time). I would have learned more about the Internet when it came to my country. Once in America I would not have abandoned my idea of a local social network for which I built a prototype back in 2006 (e.g.NextDoor.com, which started in 2010, accomplished what I wanted to do back then). I would have entered earlier into the world of photography and film making. I would have started also earlier to learn better writing (especially for my film work).
And maybe I would have changed even more things. But that may happen in another life ;-)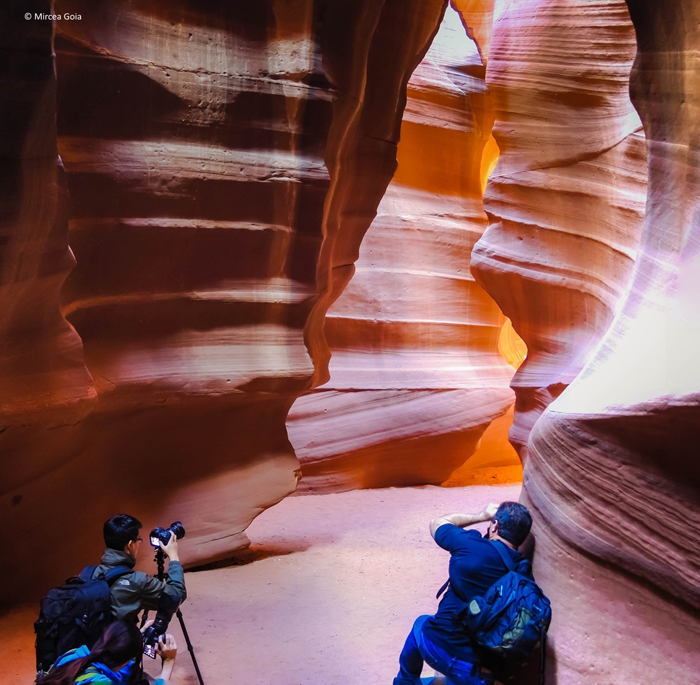 Antelope Canyon, Arizona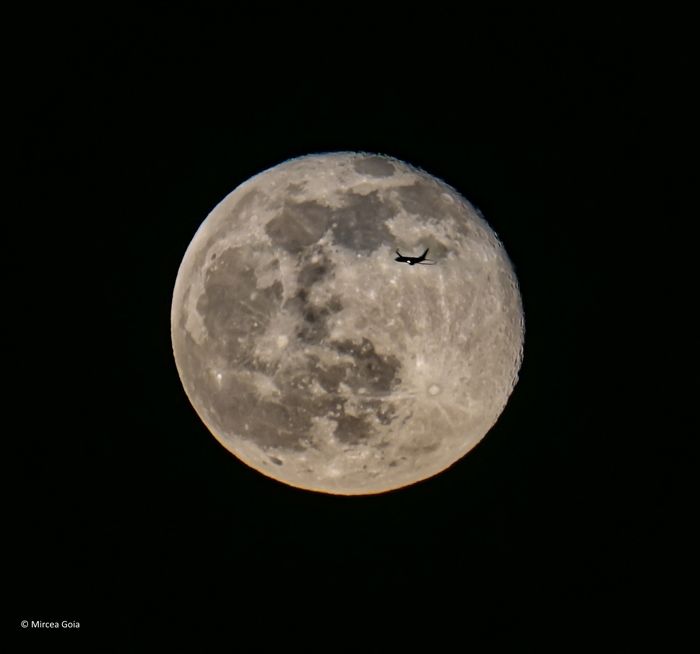 Airplane passing the Moon in Pnoenix, Arizona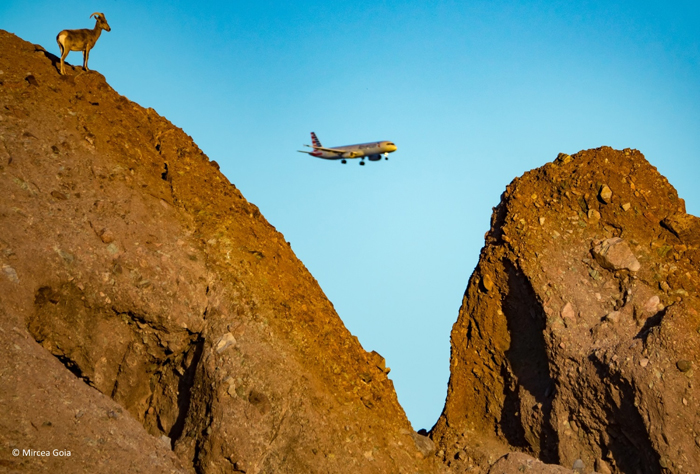 Big Horn sheep and airplane in Pnoenix, Arizona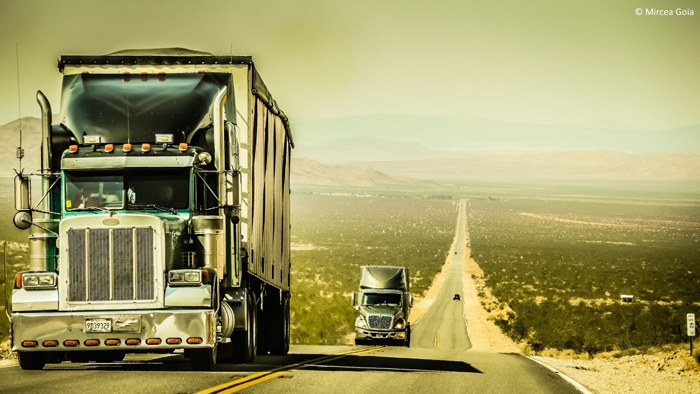 That's how America is moving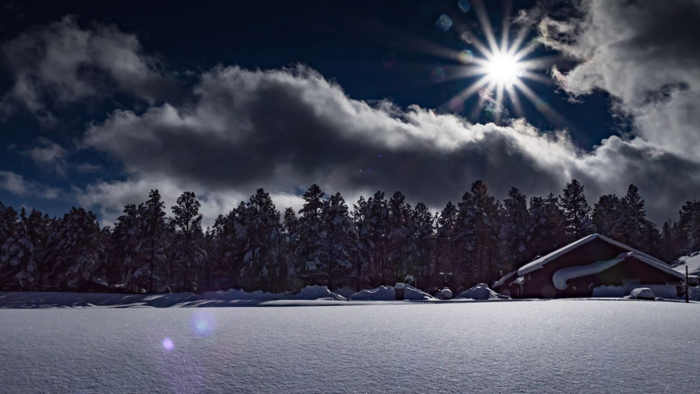 Winter at Mormon Lake, Arizona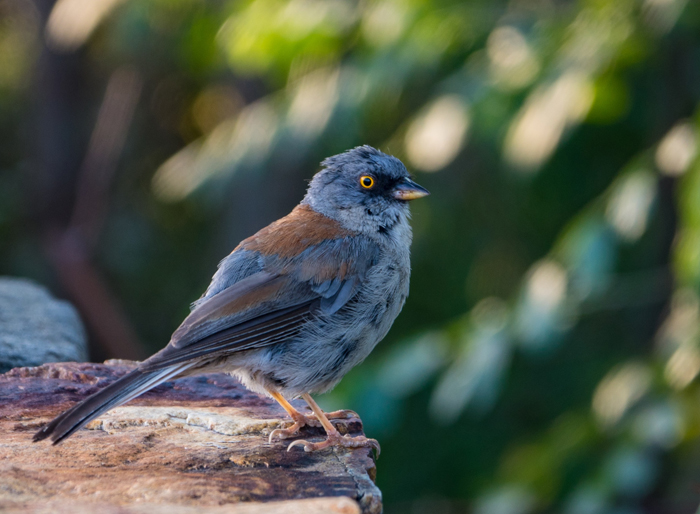 Yellow eyed junco bird at Mount Lemmon, Arizona