"I Bloom For You" is another one of the artworks in series "I Found The Silence" (www.martinstranka.com/ifoundthesilence). The idea was created in June 2018, followed by 3 months of planning. The main inspiration was to escape beyond the limits of everyday existence, somewhere where a man can be himself. Escape to a place, where we meet ourselves in the purest way possible. On the photograph, as well as the whole series, appear elements of nature.


On this particular artwork it is the flowing river of flowers as the symbolism of freedom. Our own liberation, that should never be taken from us. In times the society we are living in, is constantly trying to hold us back, criticize and limit us. We are judging individuals by our own tied up rules. An individual should always stay true to himself. Not to be pushed to run away to abandoned places, out of the sight of society to be who he really is.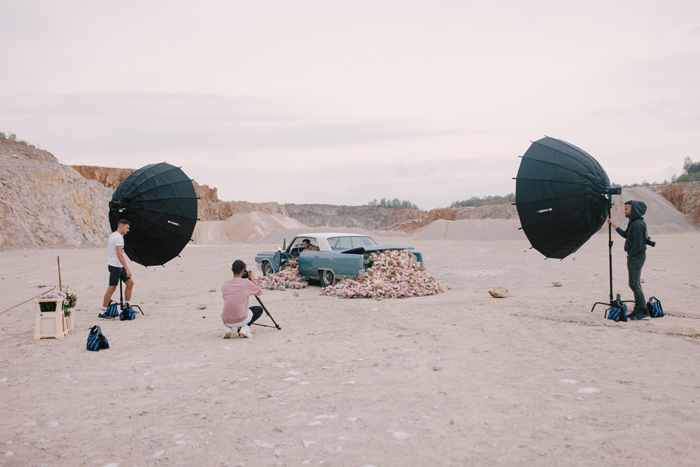 The Artwork "I Bloom For You" was created thanks to a huge support and cooperation of great people. The role of model was taken over by the talented young actor and friend Ivan Lupták.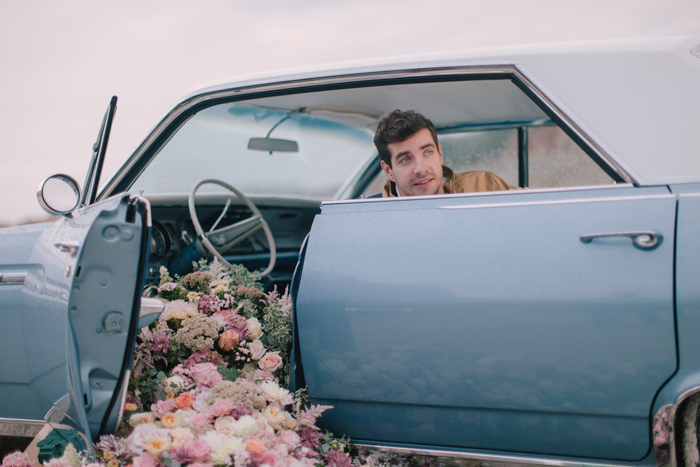 Ivan Lupták

After long hours spent on searching, I found this breathtaking old Buick Electra 225 from 1963. The entire floral arrangement was created by the skilled and handy florists from Provoní (www.provoni.cz). The arranging of hundreds of fresh flowers took almost 5 hours.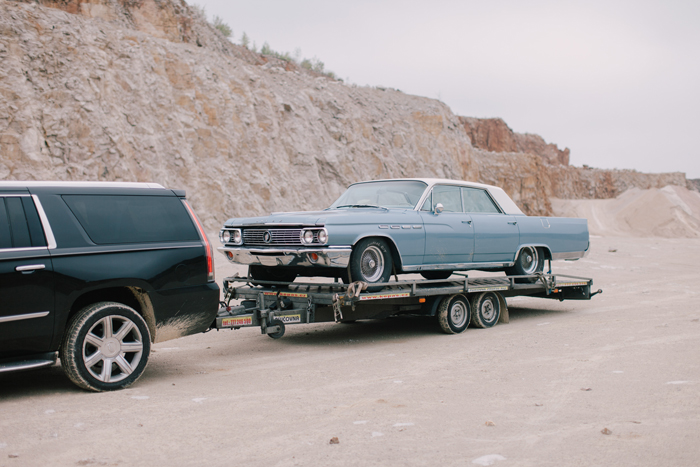 The location we have chosen for the shoot was a stone quarry close to Prague in Czech Republic. For the whole scene we used lights from FOMEI (www.fomei.com), as you can see on the backstage footage. The credit for these beautiful backstage photos captured throughout the whole day goes to the photographer Milan Vopálenský (www.milanvopalensky.com). We used 3 battery lights of 600ws with different types of soft boxes. The intention was to build quite heavy but poetic movie atmosphere. The week before the shoot we were constantly following the weather forecast and it seemed it would rain the whole day. Eventually the rain combined with the sunset played huge role in creating the most beautiful movie scene. After the shoot, the great support and my base in the whole post-production process is premium graphic display monitor EIZO CG318-4K. Thanks to this equipment I am able to focus on the very detailed adjustments in the process of creating the fine art piece.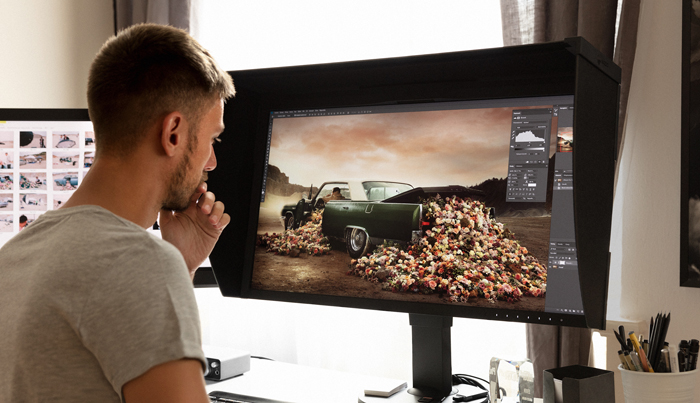 All together the time spent on this project from the very scratch to the final artwork took more than 350 hours. If I look back and realize how many great people I was able to work with, I feel it was worth it.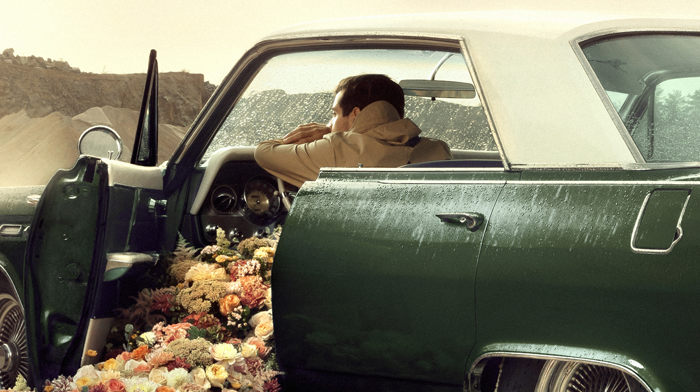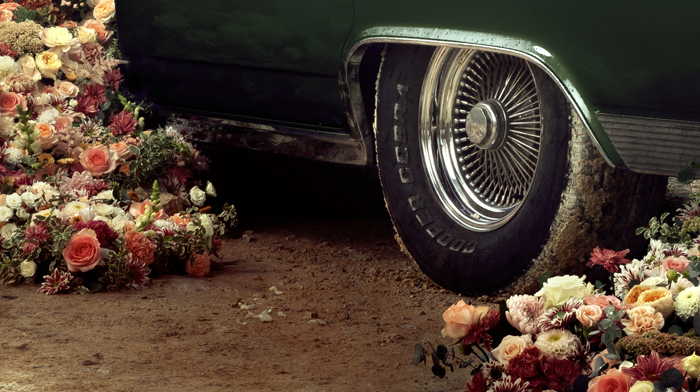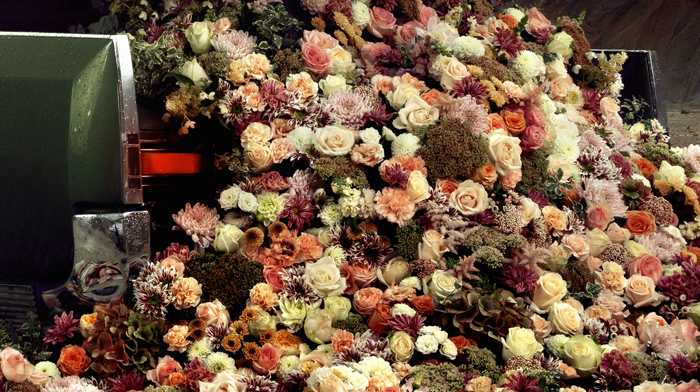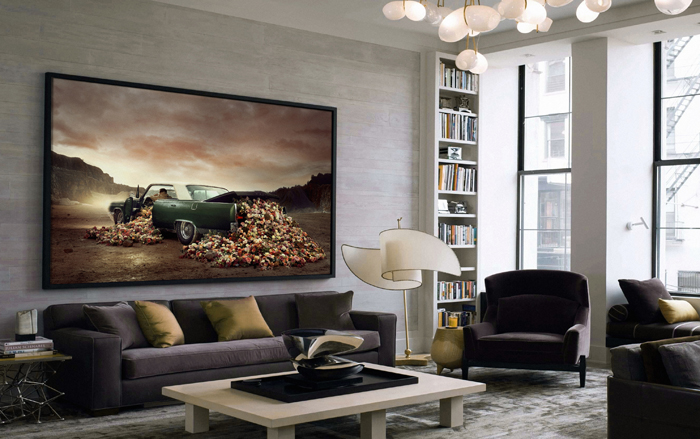 Website: www.martinstranka.com
Instagram: www.instagram.com/martinstranka
Facebook: www.facebook.com/MartinStrankaPhotography

MARTIN STRANKA BIOGRAPHY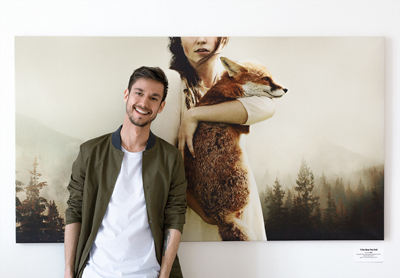 "Martin Stranka, a native of the Czech Republic who lives in Prague, is a self-taught professional photographer, born on April 13 1984. Martin was a bored student plodding through courses in business school when the unexpected death of a close friend led him to pursue photography as a form of therapy. That hobby turned into a passion and, eventually, a profession. His distinctive vision of photography is etched as a unique space located in a balance and serenity, while his sophisticated and rewarding images exist in that narrow window of a few seconds between dreaming and awakening. Martin creates images that appear to be stills from a film — one that walks the line between fantasy and reality.
During the last years he has won over 80 major international photography awards from different competitions, including Sony World Photography Awards, Professional Photographer of the Year, Nikon International Photo Contest, Prix de la Photographie Paris and International Photography Awards eleven times in a row. His solo and group exhibitions have been seen from South and North America, through Europe, all the way to Asia. His photographs have been exhibited in places such as New York, Los Angeles, Las Vegas, Basel, Tokyo, Milan, London, Miami, Paris, Prague, Hong Kong, Kiev and many more. Martin's work was presented in prestigious galleries such as Getty Images Gallery, Saatchi Gallery, THINK+feel Contemporary Art Gallery and SNAP! Orlando. His work stood proudly alongside the likes of Andy Warhol, Annie Leibovitz, Banksy, Damien Hirst, Helmut Newton and Erwin Olaf. Martin was introduced and exposed at SCOPE, the largest and most global emerging art fair in the world, held annually in New York City, Miami, and Basel.
Martin's dreamy, transportive photography has been commissioned by cultural institutions such as the National Theatre in Prague and the Czech National Ballet. Dozens of his images have also been used by New York publishers for the covers of mysteries and thrillers — genres he believes his work is perfectly suited to. He has created book covers for the biggest New York publishers, such as Harper Collins Publishers, Sterling Publishing and Penguin Random House. In addition, he has collaborated with other book publishers, music publishers and artists around the world. Work of Martin Stranka was featured in interviews for Adobe, Disney, The Guardian and many more."