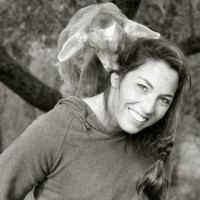 I feel pretty certain that most of you don't know what you were doing on September 1, 2009. Surely it was just a random day of the year for most, but not for me. I vividly remember not only joining 1x, but also submitting my first photo to the curators.
It was a gorgeous day in the tiny mountaintop village in southern Spain where I was living. You know, one of those cloudless blue sky, peaceful, click-your-heels kind of days. Well, it was... until I pressed that Upload button, I mean. A sudden shot of adrenaline, quickly followed by a bolt of sheer terror, flashed through my veins. And in one nanosecond it was clear to me: I had completely lost my mind. I actually just submitted an image to the renowned 1x.com!
Almost six years later (mind at least mostly intact now), I am so excited to be writing my first of many blog entries for 1x. This is my virtual home; it has been for a long time. I was a Senior Critic a few years ago, I've been proofreading 1x tutorials lately, and now I'm truly honored to be in the position of keeping you up to date with the latest in photography around the world.
So before we get started, I'd like to take this opportunity to say a few things to all of you:
1) This is our place to discuss every aspect of photography under the sun – news and current events, tips and tricks of the trade, the latest trends, how-tos, 1x member news, a few surprises I have up my sleeve, and of course, some extra-cuddly kitten photos every now and then.
2) Whether you joined 1x ages ago or just became a member today, I want to hear from you! The door is wide open to all points of view, thoughts and comments on everything I post – the goal is for us all to communicate and share ideas. Everyone is invited to the discussions, so if you have something to contribute, please don't hold back.
3) Ok, ok. No cute kitten photos. I wouldn't do that to you! I like baby goats better anyway, and I'm sure you will too, eventually.
I'll be back soon. In the meantime, send me an email if you are doing something super-stellar with your photography that we should know about, come across a great topic you think we should discuss, or have any idea how to stop a mockingbird from constantly chirping at the top of his lungs from midnight till morning in the tree right outside my window (!!).