by Editor Wicher Bos
In collaboration with Christine von Diepenbroek

'Madam, you wear the wrong patterns'

Christine, thank you for the opportunity to get some background with this amazing image. Your 1X-bio says: "I´m a storyteller - not a photographer. … Everybody is invited to follow my dreams, my inspiration of the human relationships and absurd ideas!"
How did this idea (dream) arise?
My fantasy was always a little bit different from the "Norm". My parents didn´t want that I watch TV. So, I started reading books. In my town was a very small library and only few books for children. So, I read adult novels from the age of 8 years. I read Alexandre Dumas, Dostoyevsky, Tolstoy, Orwell, Asimov, H.G. Wells, the German romantic Authors very early in my life and get a deep insight adult life and current views to the world.
A book inspires your fantasy, you have to create the landscapes, the characters and persons in your own mind. I think this was the reason why I can create situations, characters, outfits and surroundings very quick and effective with minimal efforts.
Are you using techniques to generate ideas?
I observe everyday people in my praxis, on the street and other locations where I am. So, I have the best study materials to create absurd and funny pictures. The daily life is the best comedian.
Besides, I often make journeys through the internet and follow some famous photographers like Tim Walker, Eduardo Recuento, Max Sauco and many others. Their work is often an inspiration.
Is the concept already fixed at the start, or developing while composing?
Often, I find some strange accessories or clothes. Then I ask my models to play with these things and give me some input. When the models are creative, I take their attitudes and interpretation 1:1.
Sometimes I have a lot of very good people-photos taken in a studio and try to find an absurd or funny concept. I scan my database of backgrounds and hope that anything is working good with the person.
Is it an image with a message? Is the smile it triggered, what you wanted - or is there a deeper layer?
Superficial considered is it only a joke, a smile for a while.
But when you look a little bit longer, it has some deeper layers.

· Normally – Abnormal
· Inside - Outside of a community
· Demarcation of foreigners

This themes in Germany are very hot discussed and actual nowadays. For me are these themes very important.

The work "Madam, you wear the wrong patterns" closely tied to my work "White in, black out".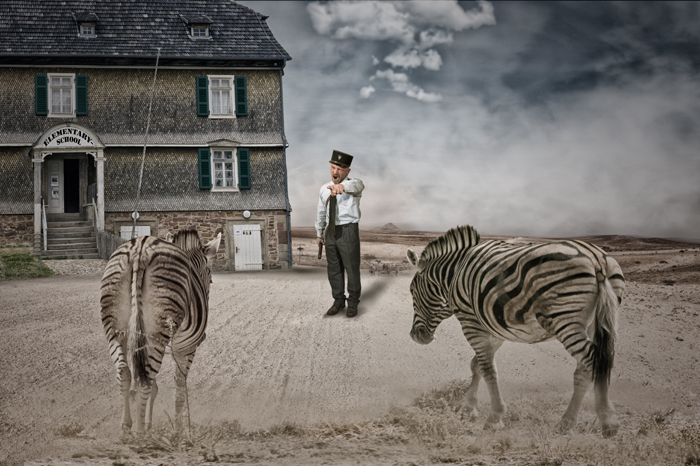 'White in, black out'

Can you explain more about your workflow and techniques?
The zebras are a lucky snapshot on a trip in Etosha pan, Namibia. They crossed our way and I get some pics out of the window of the car.
The model Kate is one of my favourite models with an excellent talent to play theatre and make some funny things with her body. I told her to give me an "Anti-fashion-walk" and this posture was the result.
Did you shoot photo's specifically for this image? Do you use stock?
Part of the picture is not planned in advanced. I had the snipped of a black and white-shooting with Kate and thought about a context with fun. After a while I found the zebras with their striking design, and that was it. I never use stock photos. Everything in my photographs is originally from me. When I use some special backgrounds or things, I wait for composing a picture until I have found all the details that I have in my mind. I don´t like using stock photos. The inclusion of the intellectual property of others in works claimed as one's own is not a practice for me.
How does your workflow for this picture look like?
First, I cut out the model and the zebras. After this process I look for a good background in my database. I want an empty landscape or a location with no distracting elements. So, I took this dusty pathway. It is an original surrounding for the zebras, taken also in Namibia.
After placing the protagonists, I have to paint the shadows and make some colour changes on the model and the zebras to integrate them better to the landscape. After this I use a layer of black and white version of the pic and give it 30 % over the composing.
To make the composing once when the concept and idea is clear needs about 2 or 3 hours.
Christine, thank you so much for contributing this background to your work.
Wicher Bos