JOURNEY TO NEW ZEALAND

by Yan Zhang
New Zealand, located in the southwest Pacific Ocean, consists of two major islands: South and North Islands. Its South Island is close to the Antarctic, while its North Island is about 1000 km south of the Pacific islands of Fiji and Tonga. It is well known that New Zealand has some of the most distinguished natural geographical landscape features in the world. It contains wild coastlines, rugged alpine glaciers, remote rain forests, active volcanic mountains, and richly endowed grasslands – all these together form one of the most magnificent natural landscapes on this planet.
Since I had my first New Zealand photography expedition with the outstanding photographer Kah Kit Yoong in 2011, this country has inevitably become my inspiration. In the last couple of years, I have visited New Zealand five times. Each time, I was able to explore some new places and create some interesting photographs.
In this article, I would like to share my personal experiences of several of the most beautiful places in New Zealand from a traveler's and photographer's perspective. These places may not be so popular compared to some other places, yet I believe that they have very unique photographic features.
Cathedral Cove – A Gem of Coromandel Peninsula
On 17 April 2013, it was a sunny day and my third photography expedition to New Zealand started at Auckland Airport. From there, we drove towards Hahei - a small coast town located on the Coromandel Peninsula, about 180 km southeast of Auckland.
Hahei is quite a special place from a geographical perspective. The volcanic rocks along the Hahei coast mostly comprise volcanic material that erupted from massive calderas (large, deep craters) around eight million years ago, forming sheets of ignimbrite and rhyolitic domes.
Our primary purpose of visiting Hahei was to see and photograph a few interesting rock stacks especially the famous Cathedral Cove along the Hahei coast. We arrived at Hahei town in the early afternoon, and directly headed to the location. Driving about 10 minutes by following the road signs, we stopped in the car park at the trailhead. Then we hiked along the track and crossed pasture and scrubland before entering pine forest with a good understory of native shrubs. From here, it was all the way downhill to Cathedral Cove and even though this meant there was a climb back off the beach for the return journey. After about 30 minutes walk, we reached the sand beach and suddenly the Cathedral-like arch presented the whole area with an air of grandeur.
I walked around the place and tried to find my favorite shooting spots. Obviously, the arch had to be the primary subject, but getting something unique and interesting from it was challenging, because I have see so many similar images of it on the internet. The weather condition was not ideal: no sunset light and an overcast sky after dark.
Next day, early morning about 3 am, I checked the sky and found that it had a dramatic mixing of stars and clouds. I decided to get up and go to the beach. On the way we hiked to the beach in the darkness, and we witnessed a beautiful sky with pre-dawn light appearing below the horizon, which inspired me to capture the transition between night and day from within the Cathedral Cove.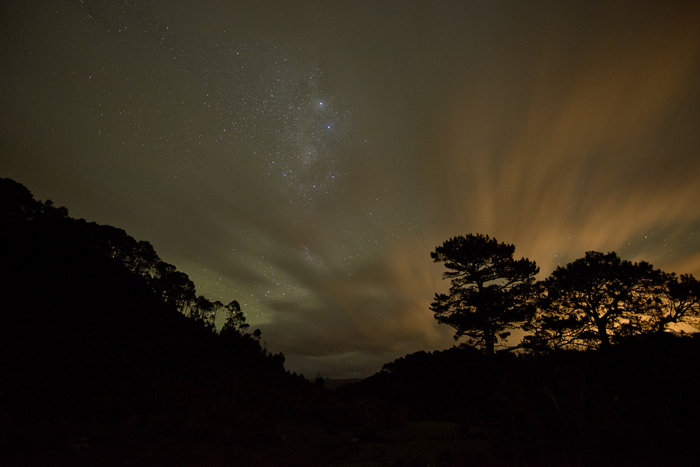 Between night and day
When we arrived at the beach, it was still very dark night. I quickly set up my camera in the spot that I had identified last evening, and started shooting. It was a super test of my patience to make this image during the two hours of witnessing an incredible transition between night and day. Luckily, by sunrise, the light made the rock wall shinning.
Kawarau River – The Origin of Bungy Jumping
Not many people outside New Zealand have heard about Kawarau River, but they probably know that the sport bungy jumping initially started in New Zealand. Yes, it actually started here at the Kawarau River!
The Kawarau River starts at Lake Wakatipu, and flows generally eastwards for about 60 km and passes through the steep Kawarau Gorge until it reaches Lake Dunstan near Cromwell. There are quite a lot of adventure activities on the river including riverboarding, jet boating, white water rafting,river surfing, and of course, bungy jumping. However, as the river contains many rapids and strong currents, it can be dangerous and has claimed lives.
When I had first visited the South Island of New Zealand back in 1994, I visited the famous Kawarau Gorge Suspension Bridge – the first bungy jumping spot, although I did not pay any attention to the river itself at that time. In recent years, I have visited this bridge a few times. Now, it has become a tourist hot spot. In the Tourist Centre, we could see people lining up for the jump.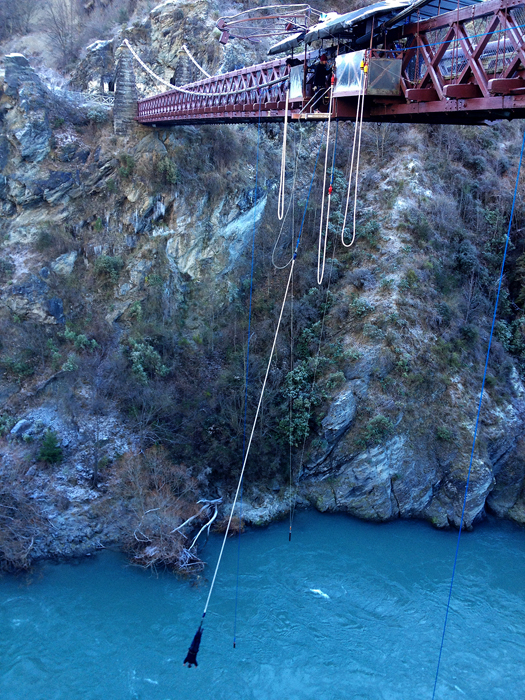 Bungy jumping over Kawarau River
While I have good knowledge about the Kawarau River and its interesting connection to bungy jumping, creating a photo about this river came as a random decision. In September 2012, our group of photographers arrived at Queenstown – a resort town along Lake Wakatipu in Otago on the South Island, and planned to shoot in several bay and lake areas around Queenstown. But as we could not find a suitable accommodation inside the Queenstown town center, we stayed in a hotel in Frankton, located just at the west end of the Kawarau River where it enters into Lake Wakatipu.
By exploring the nearby surroundings of the hotel, we found a spot on a cliff above Kawarau River that provided a beautiful viewpoint of the river with the famous mountain called The Remarkables as the background. The scene was just magnificent. As it was only the beginning of spring in the south hemisphere, the top of the mountain peaks was still covered by snow.
So I decided to take some serious shots at this location during our stay in Queenstown. Under our time constraint, I only had two morning opportunities for taking photos at this spot. For the first time, the sunrise light was wonderful, but its direction was not quite right and I did not want to comprise my composition. On the day we were leaving Queenstown, I decided to take a last chance. I went up before 5 am, and came to this place still in darkness. It was surprising that the Milky Way was still clearly hung on the sky and the twilight was about to illuminate the surroundings, whilst two strips of red clouds crossed the sky. This was the first time I witnessed such a wonderful Milky Way when the sky started to change its color.
Besides the Kawarau River area near Queenstown, Queenstown itself is a beautiful place and contains many opportunities for photography. For example, Wilson Bay along the Queenstown – Glenorchy Road and Moke Lake are two interesting spots with impressive landscape views, yet not so well known to people from outside New Zealand. Another highlight is to get to the Bob's Peak, where you can gain a 360-degree over Queenstown and surrounding lakes and mountains.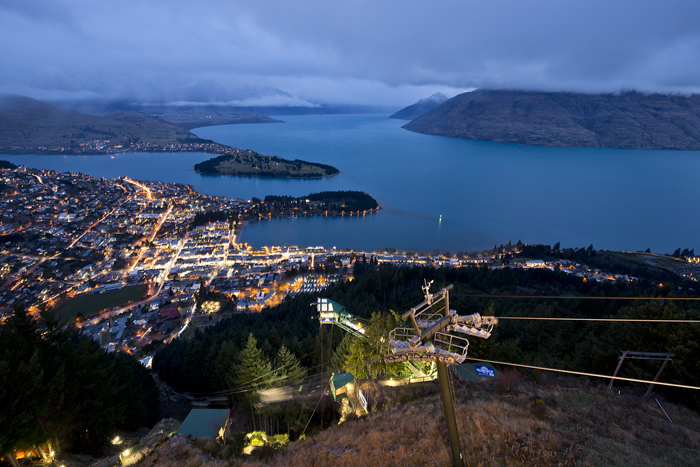 Queenstown
Saint Bathans – A Recall of Old Times
Saint Bathans is an old small town located in the highland plain called The Maniototo in the region of Otago, South Island. I don't know the exact population of Saint Bathans – and it seems that such information is not readily available from the internet. But back in the late 1800s, it was a bustling town with around 2,000 miners living in the immediate vicinity. Some of the buildings from that era remain until today and little else has been added since, so it's very easy to imagine the town as it was during the time of the gold rush.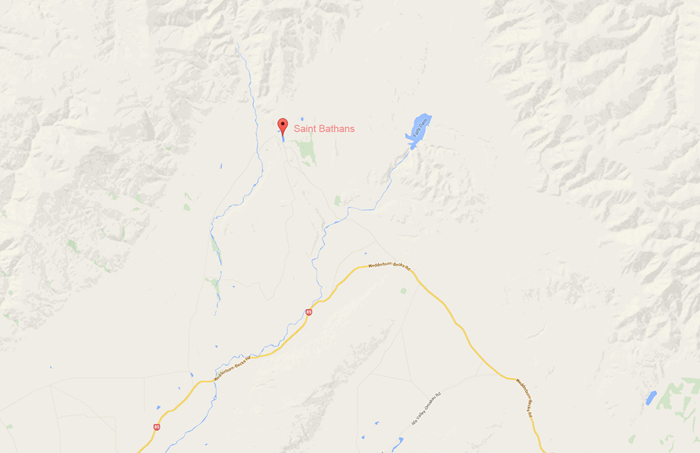 Map of Saint Bathans
Saint Bathans is located between Queenstown and Dunedin, but surrounded by mountains, as one can see from Photo 8. This implies that access to Saint Bathans is not as convenient as most other places in South Island. In fact, there is no public transport to get there. Furthermore, in winter, it can be inaccessible from outside if a snowstorm occurs.
Because of its remote geographic location, Saint Bathans is not a popular place for tourists as well as for photographers. It is quiet, especially in winter. People sometimes call it a ghost town. I only heard about Saint Bathans after my fourth trip to the South Island. But the more information I found out about this place, the more my curiosity increased. So when I planned my fifth trip within the South Island in July 2014, I decided to visit Saint Bathans and hoped to see something interesting.
3 July 2014 was a calm day – no snow, no wind. After long hours of driving, we arrived in the town without any drama. Our accommodation was the only hotel in Saint Bathans called the Vulcan Hotel. This 1887 built hotel was small but cozy and convenient. The owner couples were kind, and made us feel very welcome. The hotel also provided meals for its customers because there was no other restaurant nearby.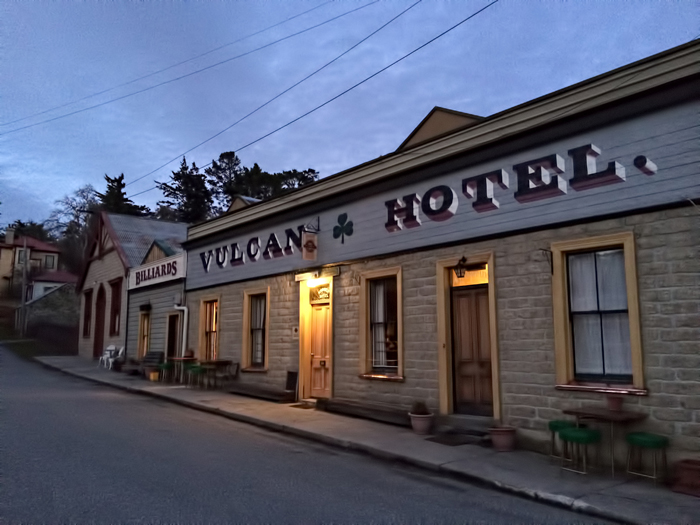 Vulcan Hotel
The main landscape feature of Saint Bathans is Blue Lake – a small man-made lake adjacent to the town of Saint Bathans. The lake itself was a result of sluicing operations for gold mining back to 1873. Nowadays, Blue Lake has become an important recreation area for swimming, body boarding and kayaking.
After we had settled in Vulcan Hotel, we quickly headed to Blue Lake, which was just a few hundred meters away. Once we got to the lake, I realized that it was not that small. We first tried to walk in a circle around the lake, but some parts of the trail were covered by water and became inaccessible.
Although the weather had turned to overcast in the late afternoon, which made everything look gloomy, I was surprised to find that the lake had many photographic attractions: We could not only see various colorful water patterns appearing in the lake, but also a lot of rich texture of the rock walls along the lake.
As there was no sunset light, we couldn't make many shots, and had to go back to the hotel earlier. But no doubt, this place has got to be one of my favourite future photography focuses.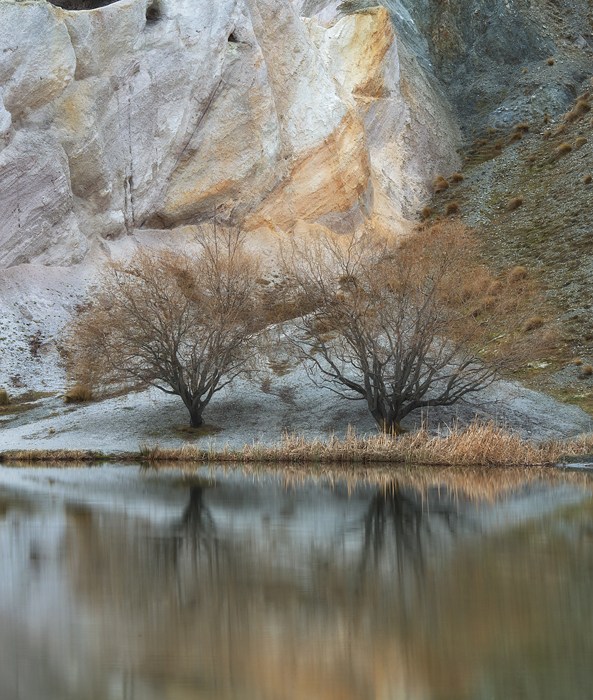 Colourful rock wall around Blue Lake
As we had planned to departfrom Saint Bathans on 4 July 2014, it meant that we would only have one last morning opportunity for taking photos at Blue Lake. So I got up the next morning before twilight and went to the cliff edge above the lake. It was pretty cold and I could feel gale force winds whip past my cheeks. The dark sky was still full of stars and I saw some dramatic clouds forming in the northeastern direction.
In the next 15 minutes, the sky became more and more interesting. I could see beautiful clouds moving from one side to another, which created some red reflections on the lake surface. At the same time, stars gradually began to fade at the breaking of dawn.
I quickly set up my tripod and camera, and started to shoot. Although I dialed my lens to the widest focal length 14 mm, it was still not sufficient to include all of the lake surroundings that I wanted to capture. So I simply made a few separate shots from lower to upper and from left to right so that I could stitch these shot together during post processing to form a larger frame including all the interesting features.
After sunrise, we had to get back to the hotel and pack up our luggage, and then headed to our next destination. Our experience at Saint Bathans and Blue Lake was very brief but exciting and unforgettable.
After coming back home to Sydney, I processed my photos and knew that I had fortunately achieved what I had expected. As shown here, the final image precisely illustrates what we saw at Blue Lake on that cold winter morning.


Golden Bay – A Region with Endless Varieties
No doubt, Golden Bay should be viewed as one of the most remote coast areas in New Zealand. It is a shallow and paraboloid shaped bay at the northwest end of the South Island. As showed on the map (Photo 13), touching the Tasman Sea, the bay is protected in the north by Farewell Spit, a 26 km long arm of fine golden sand that is the country's longest sandspit. Its southeast is adjacent to the famous Abel Tasman National Park.
One day in July 2013, when I was wandering through a bookshop in Queenstown, I found a book with an article about the Golden Bay area together with some pictures. The article and those pictures immediately ignited my strong interest in this place. After further study, this place had fully captured my interest.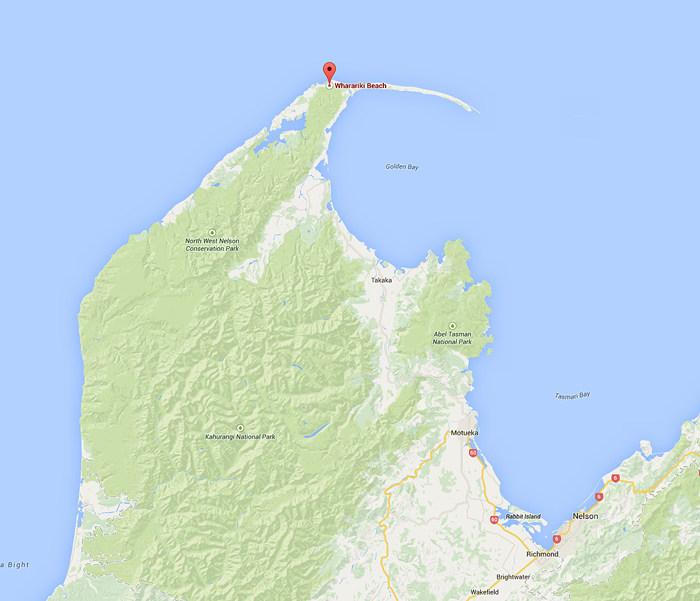 Golden Bay Map
I started my new expedition to New Zealand in January 2014. Although my primary goal for this trip was to participate in an Alpine Mountaineering Training Course in Mt Cook, I decided to visit Golden Bay before my course began. On the 6 January 2014, it was a hot sunny day when we headed to Collingwood – a small town located on the north end of the South Island and only 30 km away from Golden Bay. Soon after we checked in to our pre-booked motel at Collingwood, we started to explore this area.
Wharariki Beach was the main highlight of Golden Bay. To access it, we drove along Collingwood-Puponga Main Road for about 20 minutes, then turned left to Wharariki Road and continued driving for another 10 minutes. The road ended at the Wharariki Holiday Park. Then following a small trail, we walked about 20 minutes passing through private pastoral land to reach the beach.
Wharariki's swathe of white sand swept into prodigious dunes by the wind would be spectacular enough on their own. But Wharariki is book-ended by sheer cliffs and off the beach are monumental wave-buffeted islands. We arrived during a low tide, and a narrow isthmus of sand and rock pools linked the islands to the beach. Such rocky islands presented the most photographic feature of Wharariki beach.
The following image was made on our last day during the twilight evening time. The beautiful sky with rising moon reflected on the wet sandy beach ground was just surreal and mysterious.
By approaching the other end of the beach, one would see a cave that is sometimes frequented by seals. However, this cave is probably not accessible in high tide. Luckily, we were able to get there one afternoon and indeed heard seal noises coming from that cave. Photo 15 was taken beside the cave when the tide started to recede and the setting sunlight was reflected from the shallow water pool.


In addition to Wharariki Beach, Golden Bay certainly has a lot of other interesting photography subjects. Onekaka Wharf, along Takaka-Collingwood High Way and about 12 km southeast of Collingwood, is probably one of those popular locations for both tourists and photographers in this area, where people can see a lot of seabirds perched on the wharf.
Another interesting spot I think is an unnamed area on the seaside along Collingwood-Puponga Main Road, where a line of rotten jetty legs gives a highlight during the change of tides.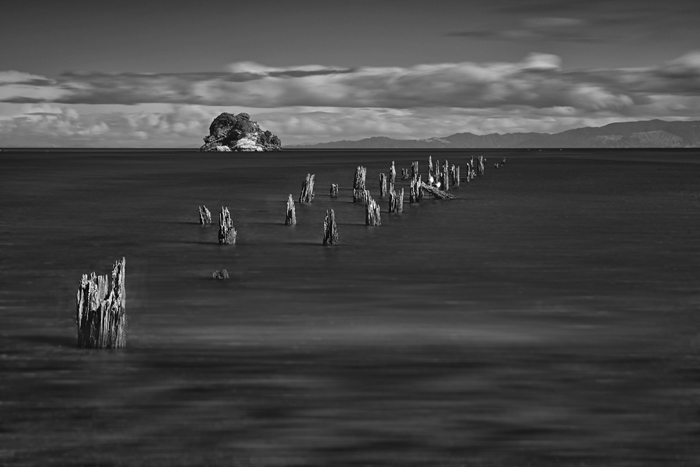 Rotten Jetty at Golden Bay
There Are So Many To Be Explored …
In previous sections, I highlighted a few places which I think are quite unique yet have not become too popular from both a travel and photography perspective, compared to some other places in New Zealand. But one thing I guarantee: When in New Zealand, for most of the time, you don't need to worry about a place getting too crowed.
New Zealand, especially its South Island, is a compact island but with so many various geographic features. Here I briefly list several more places on the South Island where you can pursue your photographic interests.
Moeraki Boulders
Lying along on Koekohe Beach near Moeraki, Moeraki Boulders are unusually large and spherical boulders. Their distinguished geometric feature is simply eye-catching once you come to the beach. High tide is usually good for getting pictures of these boulders.

West Coast
West Coast, starting from Kahurangi Point in the North near Golden Bay and ending at Awarua Point north to Milford Sound, with a length of 600 km on the west side of the South Island, is probably one of the wildest coastlines in the world. A photographer should not miss the opportunity to explore this region.

Milford Sound
Milford Sound has been called the Eighth Wonder of the World. Its magnificent towering cliffs and peaks rise more than a kilometer straight out of the sea. Hundred of waterfalls cascade into the fiord and forest clings to sheer rock faces. Milford Sound also offers many walking and tramping tracks ranging from short and easy walks to long multi-day mountain tramps/climbs. From a photographer's perspective, it provides endless opportunities and is definitely a region worth exploring.

Lake Hawea
Located in the Otago Region, Lake Hawea lies in a parallel glacial valley to Lake Wanaka, 35 km long at an altitude of 348 meters. If you travel to Lake Wanaka, very likely, you would miss Lake Hawea because only going to Mount Aspiring from Wanaka along Makarora-Lake Hawea Road will you pass this huge lake. Nonetheless, Lake Hawae offers some stunning scenery that will impress all.

Aoraki / Mount Cook
Last but not least, Aoraki / Mount Cook is a mountain range lying in the Southern Alps of South Island, where its height of 3724 meters positions it to be the highest mountain in New Zealand. Aoraki / Mount Cook provides all kinds of activities, from serious mountain climbing, tramping and walking, to general recreations. Although I have been to Mount Cook several times before, only from 2014 did I start to climb this mountain range seriously.
Obviously, there is so much more to tell about this place, and I believe a separate article should be devoted to it.

About the Author
Yan Zhang is a computer scientist and university professor specializing in Artificial Intelligence. Yan started digital photography practice in 2007, and since then, he has been tirelessly exploring the scenes of nature near and far, and trying to capture those magical moments and transform them into eternal art. Yan's photography focus are grand landscapes of oceans, sky and mountains, as well as fine natural objects. He resides in Sydney, Australia with his wife and two daughters.
Website Yan Zhang