by Editor Peter Walmsley
Seasoned travel photographers know that an important ingredient in a good people shot is engagement with the subject. And engagement with the subject usually requires time and patience. For sure one can stick a 200mm lens on and shoot anonymously from across the street and there are some advantages to doing so: you can get up close and personal without being noticed, it's easier to pick out details and perspective is compressed so that foregrounds and backgrounds can be drawn into the picture to provide more context.

But on the other hand, it can make it harder to isolate the subject from a fussy background; telephoto lenses are larger, heavier and often slower than shorter focal length equivalents; and perhaps most importantly you are both more noticeable with a long telephoto and outside of the scene. With a shorter focal length, you are participating: a good part of the art of street photography is being in the scene whilst still getting the candid shot.
So, when an opportunity came up to work with the owners of an Indian street restaurant (a dhaba), in order to capture some images for a new website, it was a chance not to be missed.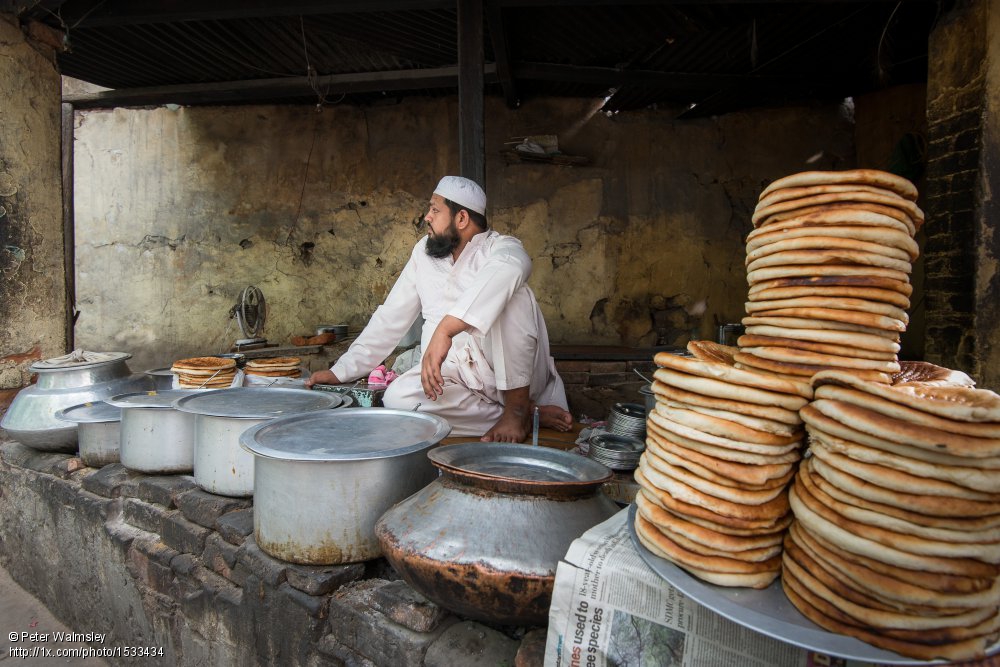 The Hussainis have owned and managed their restaurant in the Nizamuddin area of New Delhi for 60 years, selling traditional Mughlai dishes such as nihari, gorma and paya to locals.
Now they wish to expand their accommodation and promote their food to tourists and the ex-pat community. Working with an interpreter, we set aside a couple of hours to photograph them going about their daily work. I didn't want distant, documentary style shots.
I wanted to be close to the staff to capture the workings of this family business.
I was first introduced to Mohammed Talib and Mohammed Makki Hussaini, the grandsons of the founder and who now manage the restaurant.
In the first instance, the staff at Hussaini's and their team were keen to have their pictures taken as family groups and friends, and duly lined up against one of the restaurant walls.
So, the camera went back in its bag whilst our interpreter explained that we didn't want posed shots – we just wanted them to go about their daily jobs. After about half an hour just observing, the camera came out again and some of the staff went back to posing. This time I went with the flow and took the shots anyway in the hope that the novelty would wear off and more candid shots would result. To some extent, that worked.
It helped to have a storyboard in mind which went something like this: restaurant premises and local context in the street; customers receiving service; the food and its preparation; and staff and their roles. The hardest category to capture were customers dining as most preferred not to have their photographs taken whilst eating. We got around this by staging a few shots with some of the staff.
In terms of equipment, I took a 50mm f1.4 prime lens, a 105mm f2.8 macro lens (which doubles as a good portrait lens whilst my usual 85mm lens was unavailable), my trusty 24-120mm f4 zoom and a 16-35mm f4 wide-angle zoom for all-encompassing shots in confined spaces.

Although it was a reasonably bright day with the Delhi haze, inside the restaurant it was darker and in the shop and food preparation area, it was much darker. I didn't want to shoot above ISO 400 (or use flash) and still needed a reasonable depth of field for all but the portrait shots so found myself working mainly with the 2 wide-angle zooms stopped down by 1 stop to preserve sharpness. Even then shutter speeds of 1/20s were frequent and many of the candid shots showed motion blur.
After a couple of hours, creativity began to wane and the staff started to disengage so it was time to bring the session to a close.
Did it succeed? Well, even with willing subjects who know the agenda, it's still hard to bring all the ingredients together in a street situation.
You need to understand the depth of field available with specific apertures and focal lengths; the decisive moment at low shutter speeds to avoid (or use) motion blur; be very aware of distracting backgrounds and move around the subjects to separate the photographic elements; spot and use compositional tools to provide lead-in lines or add framing; keep an eye on light direction and shadows; and make sure that there's a clear sense of story in the image.
Check the photographs to decide what you might do differently.