"When I discovered the photography, I discovered myself. The magic is something you feel! The same way you feel the good moment! Photography is the best way to express myself. I stop the time. – Gina Buliga"
Gina Buliga is a one of the most dedicated and creative Romanian photographers capturing incredible children portraits. She loves to photograph children for their fantastic and overwhelming energy. Her favourite subjects are especially her two little girls and this is how her soul project "Daughters" was born. She considers herself blessed to work with children and her daily optimism and energy arise from visually telling the stories of children's joy and innocence.
For Gina, photography is life itself and she truly believes that photographic work doesn't transmit anything unless it is built with overwhelming feelings and powerful passion!
Please join me to discover more of Gina, her passion for photography and her projects in the interview below!
Gina, I would like to thank you so much for taking the time to participate to this interview! To start it, I would kindly ask you to briefly introduce Gina Buliga - the woman behind the camera?
Hi there! I'm very happy to have the chance to answer your questions! In an interview given to a friend in the past, she concluded that I am Gina Buliga, the "one photographing the life through the light of her soul"! Now I am eager to see how will you perceive me by the end of this interview!
The universe worked very well here, for me! I went towards the photography for many years now, and in 2006 I started to have paid jobs in this domain. Until 2006 I liked more to sit in front of the camera, go out on holidays and go back home with at least 10 films photographed. By 2006 I had my first photo sessions and when my photos were published in magazines, I was extremely happy. Within the same period I attended the "Dalles Photography School" in Bucharest for one year, where I was one of the students of Professor Dumitru Mociorniţa, a wonderful man. There are a lot of things happening in your life: more or less wonderful... In 2009 I rediscovered the photography in a different way, along with my girls, the two wonderful "ladybirds": Alexa and Maria. I gave up what I was doing before and I went on with the photography only, the most beautiful thing in the world. When I really discovered the photography, I discovered myself. I began to take pictures of the girls very much in the natural light and from here, I restarted my photo sessions, this time with the children and families only. At the same time, I started to travel a lot when I had time for short periods of time, unable to leave the girls alone or leave without them. The photography found me and we rediscovered ourselves together! It's magnificent and I would not change it for anything in the world!
I would be interested to learn when and how did you started your photographic journey!
My photographic story started since I was a little girl, but I liked more to sit behind the camera from 2005-2006, when I started to photograph consciously. The job at that time helped me a lot to approach people, to communicate very much with them before I shoot them. I also remember that my early jobs in photography were on the movie set.
The photography is either a hobby or a way of life for many of us. What the photography means to you?
Photography is life itself - I could not define the photography otherwise, because this is what it means to me: the life! When I shoot, I catch a small moment from people's life and with the photography we capture a small part of their soul – there is no other way around! The photos do not transmit anything unless they are taken with the deepest feeling and passion. I cannot imagine my life without the photography, it is my most powerful way of expression, it is the way I convey the best what I feel every day!
What would be the most important experience so far that have influenced your steps in photography?
The most important experiences that marked my steps towards true photography so far were… my girls Alexa and Maria and the light! I still remember the first photos we have created together in 2008, I think. My house is like a photo studio, I have very nice places to take photos, but I have a favourite corner, "My Favourite Corner", which was the first step to launch the "Daughters" project. I saw then a ray that appeared on the staircase and it seemed magical to me; my daughters being around we started to play together. It turned that the sun ray was not enough so I tried to add some dust particles to enhance the magic!

Gina, you are well-known for your children photography works. You have started by taking photos of your own children ("Daughters" project), but what makes you so drawn in this kind of photography?
Yes, it's true, the "Daughters" is my soul project, which I hope I will be able continue it for a long time, as much as my children want. The age doesn't matter, they will always be my children. My girls helped me a lot to see further and together with them I really discovered the light, the universe worked very well for us!
They are indeed my favourite models and I worked (and I work) with them very hard when I have time. I'm sorry I do not have enough time lately as much as I want to photograph them! It's true: with them I test a lot my ideas, but every time I try to send magic messages through my photos; their innocence is wonderful and we know that all three of us... you only need the light!
I like when the girls come to me and show me the photos or indicate some good light and advise me about what we can do to make a magical composition; we play very much together and the magic comes out of our play!
We work together, even at my professional photo sessions they help and come with new ideas, there are two lovely "ladybirds" that make my life wonderful! I learn, work and document together with my "ladybirds"; along with them we bring the magic where we are... everything is magic! They are convinced that the sun is always shining for us!


How do you manage to connect to your children subjects and get the most of their innocence, joy and energy in your photos?
This is the magic, this is what I was blessed with: to work with the children! They have a fantastic energy, you can have a difficult day, but when you interact with them, everything changes. There is no way I cannot connect with them, they are wonderful, I like to play with them, there are times when I leave the camera down, pause and play with them. Sometimes I try to help their parents to relax because the more relax a parent is the more the child will be at the photo session because they feel everything; the children feel more than we can imagine. For every photo session with children, I do not set an hour or a while for the duration; I sit down and keep shooting until I feel like I have those few photos saying something; that means I did my job and I feel great! There is no way I cannot surprise their innocence, because this is what they are - an explosion of innocence and joy! I actually had a project in 2012 "Shooting Innocence", I photographed 370 children in 3 days, and I promised that every child would get a photo. It was challenging for me, but I took the project to the end and I named it "Shooting Innocence". Later I added: Shooting Life… Shooting Joy… Shooting Love!
What would be your most important advice to those trying to get amazing photos of their kids?
The most important advice I can give is to photograph with your soul. Only this way you can convey messages through your photos!
The relationship between the photographer and the client is the most important, you have to know yourself, to talk each other before you start shooting. Typically, in a photo session, the most successful frames are the final ones, when people relax, they get over the camera fright and go fully into a state of well-being.
Another area of focus for you are the workshops in remote but spectacular locations around the globe. How do you choose these locations and which one impressed you the most so far?
Yes, the photo tours are for me a total disconnection, a great joy by the relationships created at each tour. The first ones were in Africa, in Morocco - it was the area where I was many times. The desert called me and it's true that I want to come back there.
There are some places where I come back with participants, colleagues and friends, or I explore new locations (so I did in Thailand, Sri Lanka, Madagascar and Cuba). It's true in Cuba I came back because I loved it very much and it's great when I came back to the people, I talked to them and they remembered me: there are magical moments and photos!
I think it's important that you really want to do something, really want to go to a certain place, because it will definitely be done eventually! That's what happened with Madagascar: I was in Sri Lanka and I talked to my colleagues how wonderful would be to go there. Everything started from a photo from Madagascar seen by one of my colleagues. At the moment I really wanted to see a baobab, to touch it, to be there without any other expectation. And that's what happened last fall: I went to Madagascar and it was one of the most beautiful experiences in my life - and not only for me but for the other participants as well! Everything was as like each of us had the dream of being there, in front of us there were wonderful landscapes with baobabs depicted every minute, as they were painted by a painter's hand and we were given to see that wonder! It's true, my only thought was to see a baobab, but after two days of Madagascar I realized that the Madagascar's heart is the children, not the baobabs!
This year I plan to go to Myanmar, in another photo expedition; I really wanted it and it will eventually happen!
How do you approach such a new location when shooting for the first time there: are there any specific subjects or compositions you are looking for in these workshops?
When I go to a new location, I do not expect much. I love going into the unknown, getting close to the people, listening to their stories. I'm more attracted to people than to the landscape, this doesn't mean I do not like landscapes, but people are delivering emotions in a wonderful way and I like it the most!
A good example was in Cuba photo tour when I spent the first few days in Havana. You cannot follow or anticipate certain situations, they happen all the way, it's important to see them and feel them. What can I say truly is that I followed every day the light! The light guides me, the light helps me to create!
From your perspective what is the most important: the story behind your images or their technical perfection?
I cannot say that I am a technical photographer, I guide myself mostly in photography after my feelings. The mood is much more important; sometimes I think a photo is perfect, even if I have some burned areas, which is technically wrong. I want to convey the perfect story even if the photo is not technically perfect - this does not bother me at all! If others think the opposite, they can go on and look for the perfectly technical photos. It's true, it's good to learn the technique to have then the right to break its rules!
Another area of interest would be the underwater photography where you have achieved extraordinary results! Can you please tell us something more about your workflow and about the "Underwater love" project?
Let's start with my first photo taken under water... Wow, I should look for my first photo I took under water, but the only place I can find it in, is my soul! Let me tell you: I received in 2012 an orange Nikon camera as my birthday gift; the very same day I got underwater to take pictures. I had no more patience: I wanted to see the camera under the water. I photographed my hands and feet, my "ladybirds" came over me and we started playing with the camera. I started to get used to the camera, but the first experience was a less pleasant one, because I burned the memory card. However, it was a great experience and I also took it as an opportunity to learn to be more patient!
The favourite subjects are my girls, it is a part of the "Daughters" project. I'm also glad that I did not give up and I shot for "Underwater Love" project and this year was great, I shot over 15 days under water, which means a lot. It depends how clear the water is it but also on the girls' mood - water could be clear but the girls could not be OK to get underwater. There are a lot of external factors that can interfere, but the photos are great when our mood is wonderful!
Under the water nothing is difficult when you love what you do; everything comes from inside and it is pure joy. It is true that there can be some more difficult moments when you actually want to shoot – for example even with the outside temperature of 35 degrees Celsius, we clang our teeth and we agree to take a break!
Now I shoot underwater with a Nikon AW 1 and I am very satisfied with it! Every year we come up with new ideas. There are many friends who ask me why I do not put some more props under water, but this is something I have no interest in: I only try to follow my girls' feelings.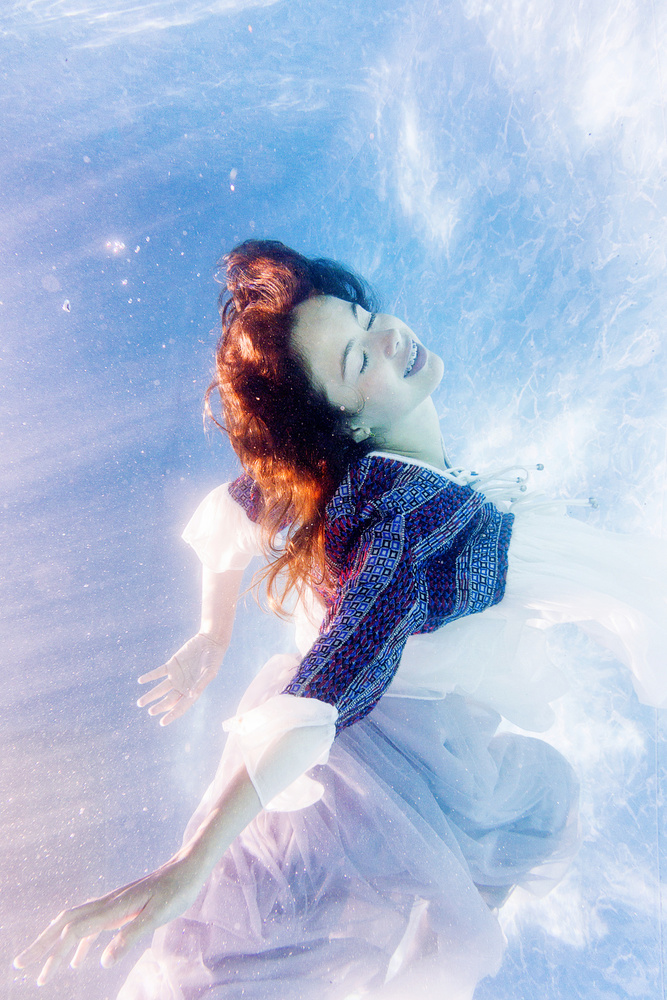 I know you are a Nikon ambassador but specifically what is the gear do you use (camera, lenses, bag)?
I use Nikon since 2006. My first Nikon camera was D70 and today I use Nikon D800 and Nikon D4. For the lenses I use Nikon 24mm f/1.4, 50mm f/1.4, 85mm f/1.4, 105 mm f/1.4 and a zoom 70-200mm f/2.8. Over time, I've used a lot of lenses, but I came to the conclusion that it's important to reduce them to only a few – those 3 or 4 lenses I really use and that help me in my photo jobs. I like to think that it's good to do our job with what we have, the most important thing is to convey the beautiful stories in the eyes of the viewers!
I am very proud to be a Nikon Ambassador, a story that started 12 years ago when I got involved to almost everything happening in my photography world! I'm very grateful that I enjoyed once every tab in a Nikon year calendar and in a photo magazine, and now I'm part of the jury team for Nikon photography competitions! There are stages we pass through - it is important to enjoy and live each stage with full joy!
Gina, who are your favourite photographers whose works have influenced you and your photography?
There are many photographers I love but constantly I follow Alain Laboile and Sally Mann.
Is there any specific photo taken by another photographer that has inspired you a lot? If so, can you please explain why?
There is no specific photo that inspired me. In 2009 I met Sorin Onișor whose photographic works inspired me. Since then we walked on the hills every time we had some free time and together we enjoyed the light and people's stories. Meanwhile, we are friends, each of us photographing in his own style, but both loving light in photography!
Can you please share with us your favourite photo taken by yourself and tell us why it is special to you?
I have a lot of photos I really care about and I'm glad to view them every time. But this photo (took in 2017) it revealed to me that we're doing magic together! That incredible silence under the water was enveloped by the sun's rays, in a perfect harmony. I cannot comment more than that - what I lived at that moment under the water was magnificent!
Gina, we nearly reached the end of this interview and here is my final question: are there any specific directions that you would like to take your photography in the future or any specific goals that you wish to achieve?
I enjoy everything I live every day, I am grateful for taking pictures in all the forms, every day. This brings me an incredible joy! I am in a magical process with the camera and every time everything merges wonderfully so that everyone is excited about what's coming out!
I wish I had more time to take on the "Daughters" and "Underwater Love" soul projects, to issue my first book "Daughters" and to enjoy the photo tours and the experience I live there!
I'm glad to bring inspiration through my photos and I'd like to help more aspiring photographers at the beginning of the road to realize that the photography is magical and that every photographer needs to find his way and take pictures first and foremost for him and then to transmit it further. The photography is what we live, is a way of expression! Let the beauty of what you love be what you do and embrace your dreams!