For Ewa Cwikla, photography is an essential part of her life. To her, photography does not mean a lot of technique and tricks. She claims that the secret of a good photograph is the ability to express emotions. Other elements or technical features could increase the power of a photograph but every image has to lead in the first place to intense feelings. She wants to tell a story with every single shot she takes. See for yourself how good she is and discover more about her personality in this interview.

How has your past and life experiences affected your photography?
My past and my life experiences have certainly influenced me. I cannot say exactly how but it's just natural that my past would have an influence on who I am now.
The passion for photography has been there for 20 years and now my very best friend is my camera. Photography enables me to express things I really feel and it makes me extremely happy to show the emotional content of a photo.
It started when I needed to choose an activity at school and before I realised I had chosen for photography. At home we had a lot of old Zenith cameras (I don't know exactly where they came from).
That was really interesting for me.
What is your photographic vision?
My vision is to be closer to people, to feel the vulnerability of each human being. I am satisfied and happy if I manage to portray this in my images.

Why are you so attracted by portrait photography?
Actually, every model is a challenge to me! I find that every click of my camera takes me closer to the personality of the model. I have been photographing for the past 25 years and am still looking to find each individual's character. Everyone is different and I want to portray that.
What is more important to you: the emotion/story behind the photo or the technical aspect?
If I have time I spend a little time on the technical aspect. I know what I want to achieve in a portrait and sometimes that can be enhanced a little. But what I see through my camera viewfinder is the most important.

What is generally the relation you have with the subject apart from being an observer?
It's really an issue of feeling ... I don't really understand this. How can I know what someone I am meeting for the first time should wear? I do seem to have an instinct for this and somehow I always hit the right chord.
Do you carefully prepare the locations where you plan to shoot?
I love to let it depend on the moment; not planned beforehand. That's how my creativity works at its best. I have, of course, my favourite locations but I don't want to shoot there too often because then I feel that my creativity suffers.

What gear do you use? (Camera, lenses, bags etc.)
I have 2 Nikon cameras D700 & D800. In 2017 I should buy a new one because I'm really not careful with my cameras. When shooting I often forget about the world, so it happens that I stumble or fall. My camera and me actually suffer from ADHD ;-)
Furthermore, I have several lenses
50mm 1:4; 85mm1:8 ;135mm 2:0 ; 70-200mm 2:8 ; 24-70mm2:8.
The 135 mm is a Zeiss lens and the rest are Nikor lenses.
I use a Billingham bag. I was always dreaming about that bag. Even at school, I considered it a real photographers bag.
When walking with the dogs or hiking I take my cameras, my 24-70 lens and my Tamron 90 mm macro lens mm 2:8. and I don't always use my bag.
I prefer to strap my 2 cameras on my hips. Super useful for photographers with ADHD.
And finally, I have 3 large wardrobes full of clothes and 1 closet with shoes and attributes.
What software do you use for editing?
I work with Photoshop CC 2017. Topaz, Nik Collections.
Can you tell something more about your workflow?
For each photo shoot, I repeat to myself: "trust yourself, stay close to your own concept, trust your sense and creativity". That is for me my best preparation! Doubts about myself I throw away. I have a good conversation with the model and, if applicable, with the parents. I have confidence in them and in myself.

What is the most important advice that you can give to a beginning portrait photographer? And how do you start?
During my workshops with beginning photographers I give a lot of attention to make a good contact between them and the model(s). This you can learn during practice - so ask models to experiment, not your children not family or friends but strange people. That is really exciting. Know your camera well so that during the shoot you or your model won't be distracted by technical details or adjustments. Don't waste time on anything else, but use the time with your model to the fullest.

Is there a special photo taken by another photographer that has inspired you a lot?
There are a lot of photographers who inspire me. When seeing this car portrait of Paul Huf I had to shed tears when I first saw it – I found it so intense and so amazing.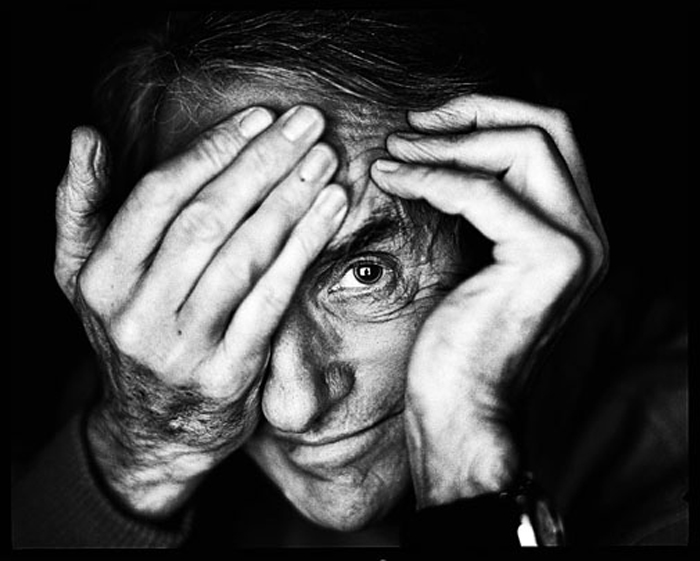 For the past 20 years I have been inspired by: Anka Tuschma, Dasha Zhuravleva, Richard Riley, Magda Berny, Marlena Bielinska and in the Netherlands: Roland Koster, Elizabeth King, Jacqueline Nolte.
I have been inspired by the Polish painter Igor Dobrowolski too. Igor is not a photographer but he puts a lot of emotion in his paintings, which is also very inspiring to me. The list could be much longer.
Are there specific goals you set yourself for the future? Is there a higher purpose that you want to achieve?I am a happy person :) I have a wonderful family and a great passion!!! And if I may make a wish then I would really like to see my photos in a famous Photo Gallery. I am a person who likes to think big!
Describe your homemade favourite picture and tell me what is so special about this picture.
There are so many pictures that are my favourites. With this picture however, I know that I discovered myself again. There was so much emotion in this picture. I created this amazing picture with my model-Muse Estrella. I think that lots of people here with me agree that the intensity of this image is really special. And that it got published in the picture gallery of 1 x is the proof.

Is there something more that you like to tell and what do you think of 1 x as a home base for your work?
I think I already told you a lot about my photography and 1 x is for me an exclusive and beautiful place where really good work can be admired. Every time my picture is chosen for publication, it is an honour to me.
Many thanks to Yvette for giving me the opportunity to do this interview.
More of my work on my website