Dragos Asaftei is a documentary & nature photographer from Romania. He's 24 and his two main photo projects are:
"Flight over Transylvania" (aerial view over entire Transylvania - more than 100 cities photographed)
"On duty on ambulance" (reportage that followed doctors work while saving lives).
Right now he's working on the project #DragosCuDrona (Dragos with the drone) which can be followed on www.dragosasaftei.ro/cu-drona
General portfolio
www.dragosasaftei.ro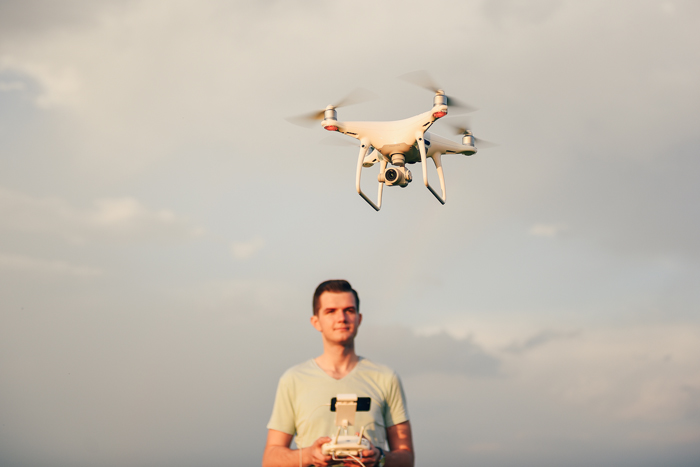 Dragos & his drone

A few years ago, in 2011, I started taking aerial photos. It was my dream to fly and take pictures from above, so I managed to start the "Flight over Transylvania" photo project. Between 2011 and 2012 I photographed from a small air plane over 100 cities from Transylvania and I flew more than 90 hours over that part of Romania. It was the time that made me love aerial photography.
Since then, I've been taking advantage of every commercial or non-commercial flight and I managed to gather a lot of pictures from above over Romania, Europe and even US.
I've been following the drone trend for the last years and finally I took the decision to buy my own drone and make the next step. DJI Phantom 4 Pro was my choice and I'm really glad about it: it's not too heavy, but also very stable, it has a bigger sensor than other drones and it take spectacular photos and videos in almost any conditions. I remember that I flew it - on a very windy day - over the place where Danube River flows into Black Sea . The drone was very stable during the entire flight, even though I raised it up over 150m altitude. You can see right down the result.

"Danube flows into Black Sea"

I can't forget my first flight. I raised up the drone above me, just for a few meters, and I started to see how many possibilities of framing I have. I've raised it more and I met a completely new world. So, what's next? I was asking myself.
THE NEW CHALLENGE
Once you have the drone in the air over the place you want to photograph, there are no other limits. You can photograph (or film) from any angle you want, from any height you want, whenever you want. You have no excuses like "I can't reach the best angle" or "the view was not the best". And here the challenge starts. Also the creativity.
Even though bird's eye view is spectacular, you have to go beyond it and find the best frame for the place or the subject you're photographing.
From now on, you have endless possibilities: take panoramic shots, capture perpendicular views (like the 2D satellite view on Google Maps), photograph with the panning technique, isolate the subject and so on and so forth.
I'll show here 3 of my favourite framing compositions when using the drone and after them I'll tell you 5 of the most important lessons of flying the drone I learned by myself.
Bird's eye view - Enhancing the subject
It's enough to fly over a nice place and to tilt the camera perfectly downside to have an interesting frame. But it's quite difficult to transform it into a great picture. One way to do it's finding a trigger point which can enhance the frame. It can be a man, a couple, a tree, a shadow, anything that can create the story for that picture.
That's challenging. Sometimes you get nothing and you land the drone happy that you got however a right aerial photo of that place. But sometimes you can create a surprisingly great frame.
I was lucky during a flight of the Muddy Volcanos (in Buzau, Romania - they are unique in Europe). Early in the morning I saw a couple walking on volcano's surface so I flew my drone almost over them, at 80m height. The texture of the volcano and their shadows (that's why I prefer flying in the morning or evening - the light it's warm and perfect for creating shadows) helped me to create a scene that seem to be cropped from the Moon.


"People walking on Muddy Volcanos"

Searching for lines
I loved maths during high-school and I am a great fan of geometry, so I'm always searching lines or shapes on my frame. When you're searching them with your drone, it's even easier.
The roads, the edges of the forests, the rivers, all of them can create lines, spirals or shapes for your frame.
I usually create diagonals with the lines and I split the frame with the spirals. Here's one of my shots like this, took during a trip to Black Sea: the highway from Bucharest to Constanta passes through a big land of sunflower. I managed to get there at the sunset so I got a great light over all that flowers. I placed the road in the frame as an diagonal line and.. that's it. I named the frame "Highway of Sun", which is also the nickname of A2 Highway in Romania.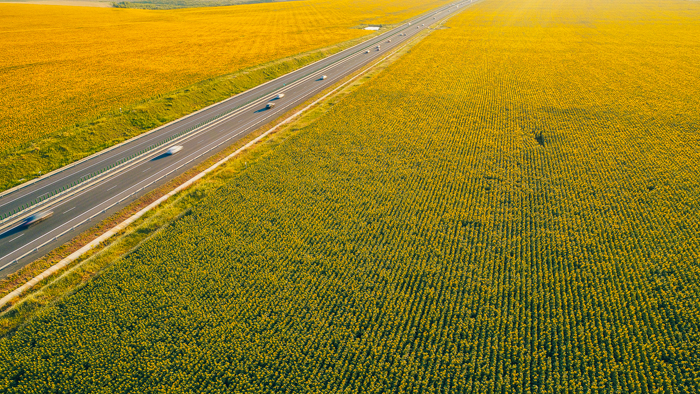 "Highway of Sun"

Panoramas - Because you can always enjoy the full view
Sometimes the lens angle is not enough. But you can always create panoramic imagines by rotating the drone (for landscape shots) or tilting the lens (for portrait ones). You can even create 360 degrees panoramas, one of the software's that helps you doing this is Litchi (only for DJI drones).
I chose to go on the "panoramic" way, for example, when I've been photographing Transbucegi road (a road at almost 2.000m altitude) and I wanted to get the whole landscape in one frame. This is the result. I took 4 landscape shots by rotating the drone and by preserving the camera's settings (hit AE Lock button in DJI app). Afterwards I stitched all that frames in Lightroom. I also use PT Guy app (on Mac and Windows) to stitch panoramas. it's great when you have some difficult frames.

"Panorama Transbucegi"

Flying & controlling the drone - 6 lessons I learned
Be careful when you launch/land the drone if there's a windy day. Place the drone with it's "feet" in the direction of the wind to avoid crashing it.

Don't fly in the night. Or if you do, pay attention, because the visual protection sensors are not working in very low light.

Don't change drone direction fast while flying in one way or another, especially when the wind is strong. It can overthrow easily.

Use a lens filter: polariser for photos (also for videos) and ND (especially for filters).

Watch always for the battery and don't fly the drone away if you don't have enough power capacity. If drone's battery is very, very low it will land right where it is in that moment. Guess what's happening if the drone is above the sea or over a crowded place.

Don't panic! Especially if the drone loses it's signal. DJI drones (and many other drones) will return home and during their way back you'll be able to reconnect. That's for sure.
So that's my point of view about aerial drone photography after half a year of flights. Still at the early beginning, but ready for a long journey. Thanks for reading this article!
Many thanks for sharing your experience and images, Dragos!