There is no better scenario for a movie than real life.
This is the story of my solo trip to the Tre Cime which nearly ended dramatically.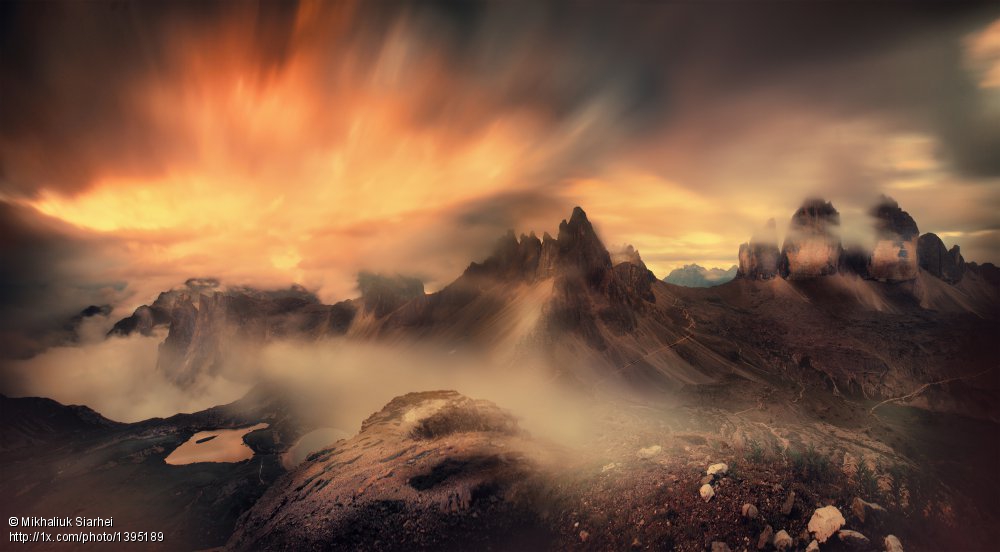 "Tre Cime di Lavaredo" by Siarhei Mikhaliuk

My intuition rarely fails me. Long before my trip to the Tre Cime, I had a moment when I felt an unexplainable and subtle fear. But I instantly thought "what can I loose"? Just spending some money for the flight to Italy"? Deep inside, my fighter spirit felt an irresistible CALL.
Despite my prior experience of travelling alone, this time I felt I would meet something beyond that experience. I told my friend: "I have the feeling I may die, but if it is my destiny to die in the Alps, so be it.
Mountains are always challenging, no matter how much time you have spent there and at what altitude. I prepared carefully my 65 litre backpack thinking about all the small things I may need, a solid tent, sleeping bag for low temperatures, several pairs of socks, 2 sets of thermal underwear, spare shoes, flash light, telescopic walking sticks, first aid kit and more of everything I may need. I prepared my photo bag containing my Canon 5D, Canon 70-200L, Canon 17-40L, filters, spare batteries, and memory cards. Extreme tent, sleeping bag, with comfort temperature -15С, several pairs of socks, 2 sets of thermal underwear, spare shoes, telescopic walking sticks, first aid kit and a lot more of everything you need.
As a rule I didn't take a lot of food with me: buckwheat packed in a plastic bottle, sunflower oil, dried fruits, nuts, some cheese, bread or breadcrumbs.
Convenience is everything and essential, but remember that every extra object is more weight on your shoulders. Preparing a journey is nearly an act of meditation and concentration at the same time.
Before going to the mountains, you need to ask yourself. Where will I sleep high above there? What will I eat and drink? What will I do in case of injury or illness?
We also need to take into account the weather and time conditions.
Despite the end of November, Italy greeted me with sunny weather. Ripe oranges and mandarins in the trees, birds picking persimmon wherever they could and a warm smell of pine needles. The light fog and silence of the coast were heavenly.
Midnight: only me and no one else in the yard. For a moment I forgot about my trip to the Alps. I took a few night shots and went to rest.
The alarm clock rang at 6am. Although I had a great sleep, my mind hardly rested.
After a few hours by train and car I arrived at 1am at my location surrounded by snow-white mountains. I started walking and everything went easily and I was wondering if my fears from the day before were grounded. But it turned out that the external calm was only a prologue of what would follow.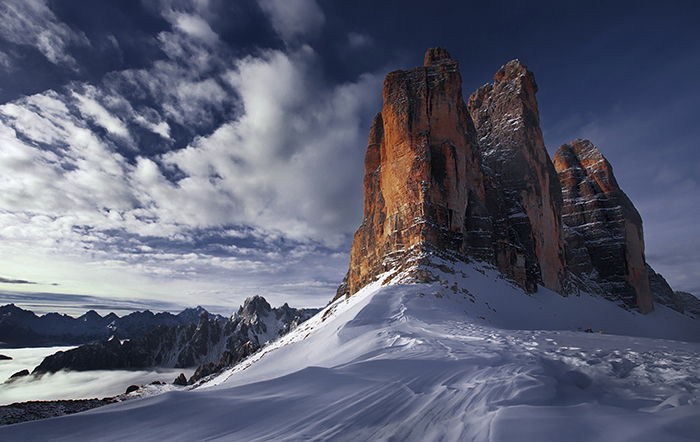 Finally, my journey to the mountains began. Slight feeling of tiredness while climbing, pleasant breathing, fresh mountain air and stunning views. I gradually took off some layers of clothes un til I was in shorts and T-shirt. Don't take cotton clothing on trips like this since they absorb sweat and take a long time to dry. You can quickly catch a cold.
As I climbed higher and higher, my heart rate increased and it became harder and harder to breathe. Despite my age (46) , I'm a well trained person being professionally engaged in choreography and martial arts. I know well what to do when breathing becomes difficult. I climbed about 2500 m in a few hours and started to be rather tired. It was getting dark and I needed a break to cook some hot food and to rest.
It's getting dark early at 5pm over there and dawn starts around 6.30am at this time of the year.
If you anchor your tent well, you can spend hours to rest. After several hours, I went out of the tent to look around... Oh my God! There was a full moon in the sky and the mountains were illuminated like if it was daytime. I was thrilled by so much beauty!
My amazement was freezing me to the ground risking to turn into a snow-capped summit ;-) The wind pushed gently and clouds hiding the moon from time to time. I took quite good long exposure shots and set up some small candles to keep the warmth inside my tent.
In the morning, the clouds were laying somewhere down in the valley and the sun constantly changed the colours of the snow-capped peaks of the Dolomites. Wind, sun and snow skilfully polish every edge of the rocks. So much splendour cannot be seen on the plains.
I hid my big backpack behind some rocks and walked around all day with my camera gear and photo jacket. It's not easy to breathe at such a high altitude and every small climb needed an effort. But carried away with photography, I tried not to pay attention to these "little things."
The scale of the mountains inspired me endlessly. I forget about food and nearly about the world somewhere below.
The most popular place in the Dolomites is Tre Cime di Lavaredo
The place is really worth it. A lot of tourists come to admire it, especially in the summer. The park is seriously guarded by the Italian authorities and a helicopter flies over it daily.
Out of the season this place is just luxury for photographers. Endless opportunities to shoot different frames from different angles. I changed lenses often. This day could easily be called one of the most enjoyable of my life. I was alone, alone in the middle of so much beauty with my enthusiasm and creativity. But once in a while I just stopped to relax and enjoy the view forgetting about who I was and my role in daily life down there. I was listening to the silence when suddenly I heard some voice and saw a couple walking in the surroundings. I took some pictures with them in the frame to show the scale of the environment.
When twilight came and darkness felt on the mountains, I realized how different the world is at high altitudes of 2300 to 2500 meters. Birds rarely fly over, clouds hang lower than your feet, trees and bushes do not grow, the sound of a plane sounds so much louder, the stars are so much closer continuous flickering, so close that you nearly can reach them. There is a feeling of desolation, like if life has left these places. But at the same time you also feel the power of the spirit and something beyond all bounds. Death doesn't frighten any more. To the contrary, it only adds value to our life on Earth.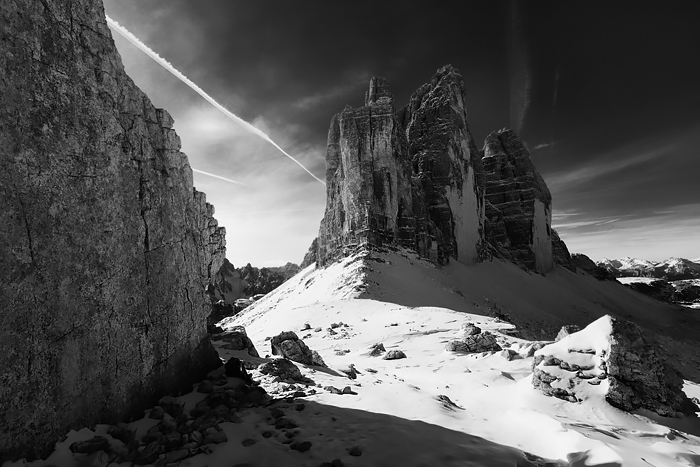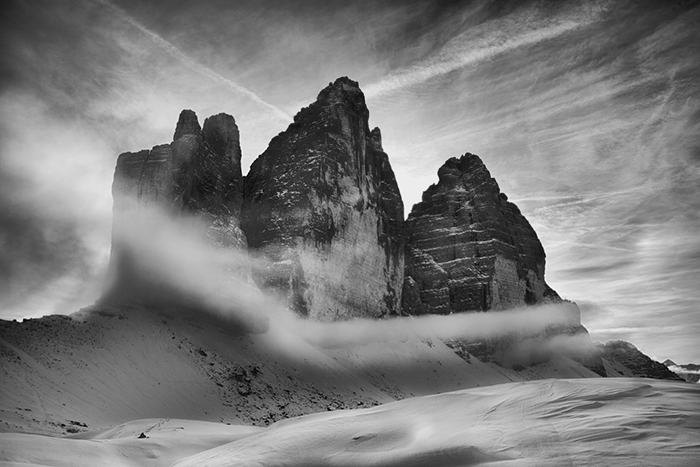 I had to melt snow on my little burner to have water. Getting drunk from melted snow is impossible. At the end of the first day I felt already being somehow dehydrated. I was longing for some fresh fruit juice. Alas, no way to bring all this over here. The night was hypnotizing me. Such a silence! I didn't want to take pictures, just sitting here was tremendous. I'm not afraid to be alone in the mountains, I'm not afraid of the hard conditions and the absence of people. A huge feeling of freedom takes over.
An hour later however, the wind rose strongly, a storm came up blowing from different directions. I had to rearrange the tent and strengthened it with stones. It was very difficult to get some sleep, if you even can call it sleep. More dramatic was that I didn't get enough oxygen, even in a passive state. Strong wind and frost lower the pressure and therefore oxygen decreases. The wind kept on blowing very hard and I had to hold the tent from inside. I was warmly dressed and stood inside my sleeping bag not to freeze in the cold. I silently decided that I would go down in the morning.
Around 5.30am I started to collect my material but it turned out that I didn't have enough strength to even collect the arcs from the tent, put them in the bag and prepare myself some water.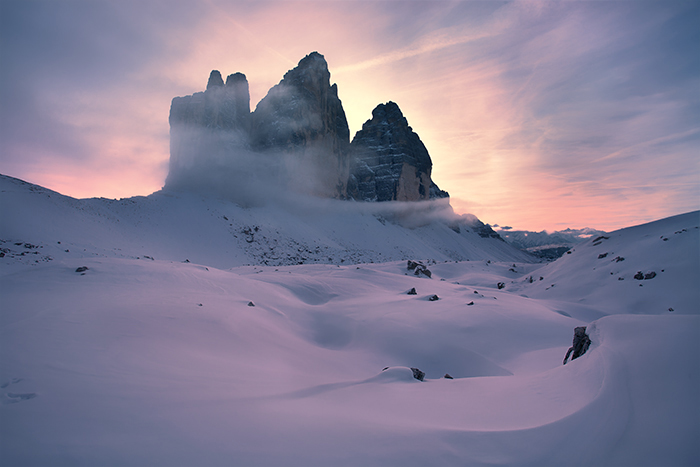 My heart suddenly was beating like crazy, probably 6-7 times a second.
When your brain slows down, your view becomes foggy and blurred. I could feel life leaving my body, like water out of a tap. My hands and feet stopped to obey. I could still understand what was going on, thoughts not relevant for my spirit.
HOWEVER, I WAS NOT GOING TO DIE!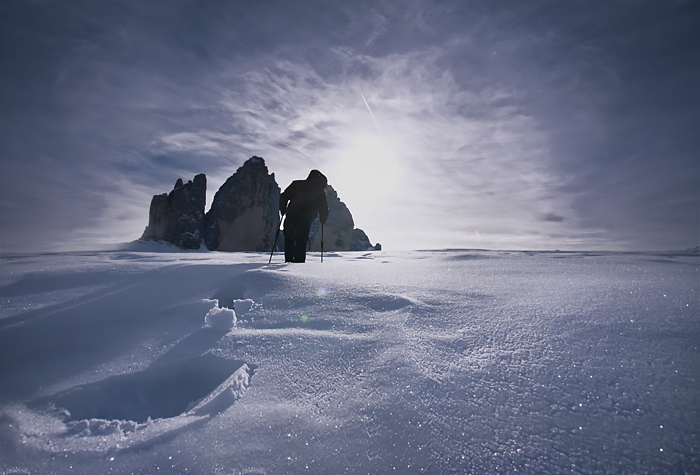 Throwing things away, I resolutely, but carefully walked along the path to the descent. I was about 30-40 minutes away from the start. I knew that I would feel much better there.
I chose a certain tempo and rhythm walking constantly concentrated on the right breathing not to over strain my body. I knew my heart could stop beating at any time.
When dawn gradually appeared on the mountains of Tre Cime Park, some words came to my mind: "We can lose everything in an instant. I had a dream that night under the stars. Once I was a man, raising children and loving a woman. I almost forgot everything that night. I saw the light in the sky and found the light inside myself, alone among the greatness of the peaks."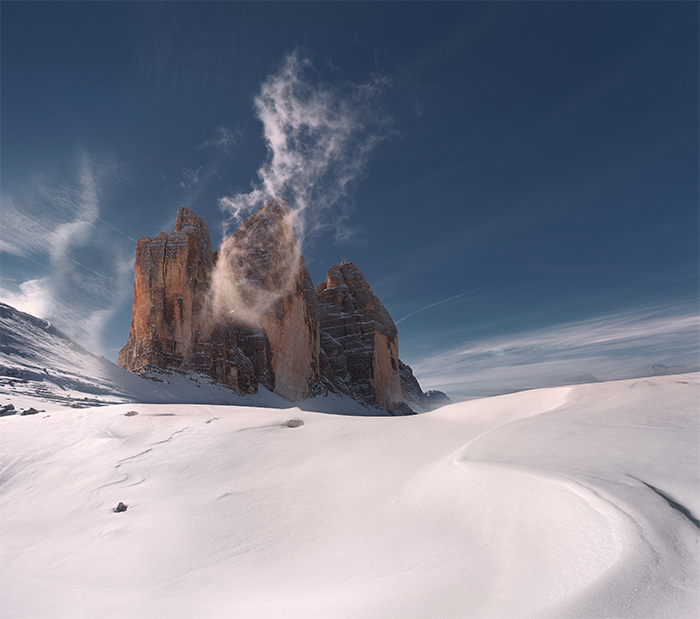 As I suspected, as soon as the descent began I felt much better. After about 500 meters of descent, I felt so good that I did not even believe that all this really happened to me.
Once on the train again, it felt as if every cell of my body was coming back to life. For about an hour I was just quietly experiencing the restoring symphony of body. Amazing and pleasant sensations, just like if some loving one was touching me.
Next step when the train has taken me to the next station, was to drink enough fluids.
I had to starve in my life, and it happened more than once. Many people know how the appetite is after fastening but this time it was different. When I finally drank a glass of the long-awaited freshly squeezed juice, I did not even realize what it was - it just disappeared into my body! I had several of them and ate - it was not me eating, it was my whole body eating. Usually we feel like food gradually fills the stomach, I felt like eating hands and feet, in the truest sense of the word. A kilogram of persimmons and yoghurt simply disappeared in my body. At the end of the second day I began to feel the food in my stomach. It was so strange. I had some food during my trip to the Tre Cime, although I did not really want to eat there. One thing is clear: simple things acquire value when they are not available.
I returned to the quiet Lake Garda, where I gradually recovered, meditated and strolled along the misty shore, thinking about new images and plots for photographs.
I think I will remember this experience for ever.
What was it? Stupid, crazy or something else? According to the concepts of society, it was stupidity. But for the spirit and the chosen path it was an act.

Being alone in the mountains and staying a few nights at an altitude of more than 2000 meters is risky!!!
There are no easy mountains, no matter how popular and high they are. No matter if they are in Norway, France, New Zealand or somewhere else.
I came back and survived. I took wonderful photos on that trip but more than all, I acquired knowledge and experience. I was not the same, it changed me.
Once more, I realized how beautiful the world is, how great the spirit is and how valuable every moment is.
To finish my story, some images from 1x photographers expressing a similar mood I experienced on my solo journey to the Tre Cime.