Ben Goossens is a sensational creator who reveals very little about himself, but lets his pictures express his uncanny imagination. His daring, surreal approach made him a Master in creatively edited photography.
Ben creates incredible images by blending detailed photography with advanced techniques. His images make one curious to take a look inside his mind.
His work was show-cased worldwide in books, magazines, on websites and awarded in most photo-contests over the past 40 years. But he also is a charming, humble, quiet and kind person.


First of all, I would like to thank you for taking the time to provide us with this interview, Ben.
Please tell us about your childhood, youth and your early experience with photography ?
It all started at the age of 16 in high school. I was captivated by illustration and photography. My first tools for experimentation were a Retina camera and some color pencils. I sneakily was illustrating my school books and I was often punished for that!!!
Can you tell us more about your artistic background and how your journey in creatively edited photography began and made you become an artist ?
After finishing high school, I went to the Art School – St Lucas in Brussels for four years. I made thousands of illustrations but my favorite subject still was photography. I was fascinated by the ways photographs could be altered and manipulated through different techniques. I soon had a darkroom. A second one followed. I spend numerous hours inside them. I worked till late in the evening. Creating surreal black & white images became a real passion.
The many graphic books with surreal/conceptual images I red in Art School were my most fascinating source of inspiration. My interest and fascination kept on growing.
After Art school, I started to work as an Art Director at one of the most experimental advertisement agencies in Brussels. To succeed in the competitive world of consumer advertising, creations and ideas must really stand out of the crowd and that was fitting me perfectly well. As ideas/concepts had to be different from the usual, I went for surrealism to make that difference. My ideas and concepts were well received by my boss and the clients with the result that most campaigns were sold!
Later on, I continued my career working for an agency specializing toward the medical industry. The challenge here was to create concepts that had to be understood by medical personnel all over the world. In the beginning I implemented my ideas using traditional techniques such as airbrushing, gouache painting and AD markers. When advanced computer processing became available, everything changed for me. The unlimited possibilities were changing my way of creation. It opened up a completely new world for me in which I was able to set my fantasy free.
At that time, I also joined a local photo club where I learned a lot from the other members and their black and white darkroom montages. My first entries in photo contests were greeted with limited enthusiasm. I sent my crazy surreal ideas to many national and international photo contest, but they were not accepted. This was soon to change, and they were later awarded in many photo competitions.
How does your photographic work influence your life?
My job as an Art Director puts me into contact with top class photographers that helped me to realize my concepts. This proved to be very influential to my hobby after retirement. It is a logical follow-up from what I did in my profession: surreal concepts. Surrealism is my live and my passion: addiction!
Do you feel that you see things around you differently?
Just like in my job, I want to make the difference. All my images are created or treated with PS … Earlier with f.e. Cokin filters and other techniques.

What inspires you to take and edit photo's ? How do you come up with the ideas?
When I go out shooting, encounter an object/situation or person, I'm already thinking what I am going to do with it to make it a personal image/concept. I combine several images, look in personal stock of 45 years photography for the fitting ones, or go out shooting for the fitting element. Sometimes it takes a year to find the fitting element, to finish the montage or concept.

Do you have any favorite subjects or do you always try something new and different?
No favorite subjects, as long as it inspires me to develop it further…Can be anything!

Could you briefly explain the story or symbolic behind your images ?
As addicted to surrealism, I try to make the message clear and in my case, the title helps a lot to better understand it, in my humble opinion.

Can you describe us the process that goes into creating an image ? Do you shoot intentionally with some new idea or creation in mind, or does your inspiration come while exploring the photographic material you already have ?
Mostly I start from a new shot. Looking afterwards for the fitting element in my 40 old personal stock as I said before. If I don't find it, I go out shooting for it. But I will not travel to the other side of the world for it and work out the concept with what is available in my surroundings.

What are some of the biggest challenges you face when creating an image ?
The biggest challenge for me is always to make it perfect: surprising, a strong idea, with perfect extracted elements, all in the right light, perfect shadows and powerful composition.

What is on your gear list when you go shooting ? Camera, lens, tripod, filters, flash, others if any ?
In the beginning, I had a Nikon FE, with which I could superpose images for experimenting. Afterwards, I won some small digital camera's (4MP) in photo contests. But they were soon replaced by the Nikon D70 and the Nikon D300.
Lately, I bought a Sony RX 10 with a , f2.8, 18-200mm Vario-Sonnar lens.. I am very pleased with it. To create my surreal montages, it is more than enough. Anyway, it is not the camera which is the most important, but the person behind it.

Could you describe for us your typical "shot to finish" work flow when creating an image ?
Describing my "shot to finish" work flow step by stop would take several pages. But feel free to read some "making-off" or tutorials on 1x and in the PHOTO INSPIRATION BOOK.
In the past, I gave a lot PS workshops showing the work flow in photo clubs in Belgium and in the Netherlands but I don't do this anymore because I had serious problems with "beamers" : frustration.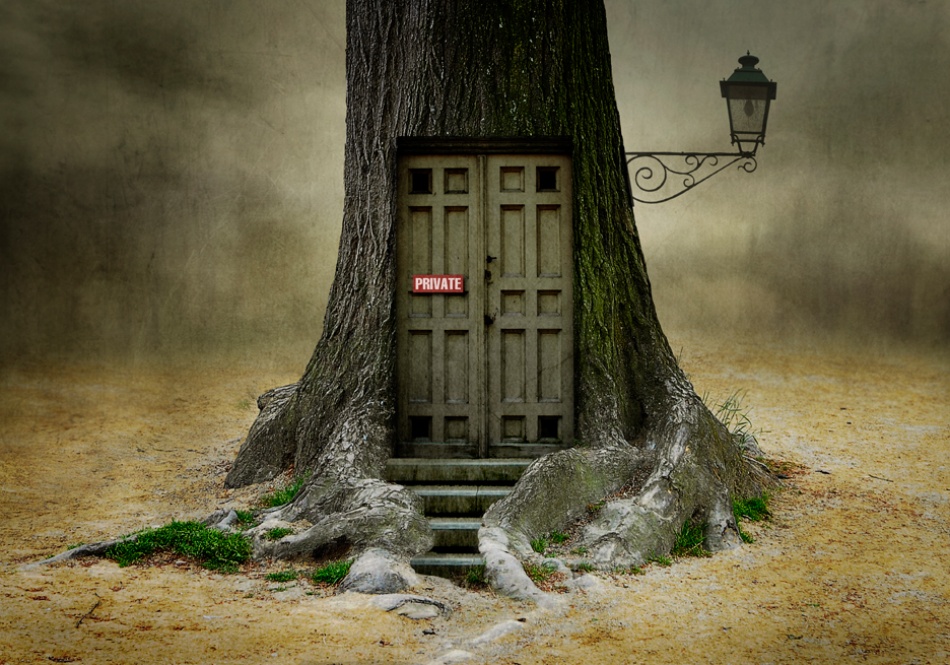 Only OPENS, if you are open fo fantasy
What software do you use for your post-processing ?
I always used Photoshop for post-process my images. PS 3, 4 or 6 doesn't matter.
The only thing I know is that after more than 25 years of experience, I probably know only 50% of it's possibilities, In fact, I know just enough of what I need to realize what I make.
Your images have been featured numerous times. What advice can you give to beginners who would like to improve their skills in creatively edited photography ?
Some fundamental and practical advices I would like to give :
Make perfect extractions.
When added to another background soften the borders, so that they don't look like passed-on. Soften them with a small drop tool from Photoshop.
Make sure all elements are in the right light direction.
Try to make the shadows perfect and realistic. That is not easy.
If the purpose is to make realistic montages, make sure that all the elements are in the right proportions what means that a lot of practice and patience are needed.
But the most important advice would be:
Look beyond the obvious.
Point left when all the others point right.
Embrace the unexpected.
Shoot from the heart and keep an open mind.
Go out when the others stay in.
Don't look with your eyes, but with your mind.
Create your own style and continue to develop it.
Which photographers or artists do you admire the most and more importantly, how has your appreciation of their work affected how you approach your own photography ?
During the 12 year I'm on the internet, I have met a lot of Creatively Editing artists, which I admire. Most of my appreciation goes to artists from the East , mostly from the former Eastern Bloc Countries. They must have fantastic graphic design schools over there.
Among your works, which one is your favorite and why ?
I really don't have any idea which one has my preference!

What do you consider your biggest accomplishment as a creatively editing photographer ?
My biggest accomplishment is that most of my images are being shown worldwide in books, magazines, on websites, in You Tube films and were awarded in most photo contests during the past 40 years.

Do you have any upcoming projects lined up ?
There are many images in the pipeline, but I have to finish them… it can take a lot of time to find and shoot the fitting elements!
What is one question nobody ever asked you, that you wish they would ask ?
A question nobody ever asked me is: "Do you like what you're doing?". My answer would definitively be: "Yes, and with passion!"

As an accomplished artist, what is there left that you want to do, Ben?
There is one thing I haven't done yet! To create the ultimate perfect composed surreal image! That is now my primary goal!
Ben, your answer is once more a proof of your humility. Anyone who watches your portfolio would probably say you have already fulfilled that goal !!!
If you were to sum up yourself and your thoughts about creatively edited photography into a few simple words, what would you say ?
I do my very best and I still feel very small when I see the work of some other Creatively Editing Artists.
Ben … You are a long time member of the 1x community. To further emphasize your commitment and contribution to 1x you became a curator who has a major influence of the Creatively Edited genre in the gallery. May I ask you about your personal vision regards 1x as a home base to show your work ?
I was introduced to 1x by a friend a long time ago. In the beginning I didn't feel my work was genuinely accepted. Creatively Editing and surrealism was a little like the black sheep on 1x because it was not considered as photography at that time! But that changed soon.
I consider 1x as the site with the best photographs in all kind of styles, that's why I like to spend time as a curator to keep it this way.
I expect the photographs to have impact, originality, mood, an artistic component or a special point of view. I find those qualities more important than perfect technique. Surprise with difference!
I think twice, 3 times for myself before uploading one of my images for screening and still got rejections like everybody ;-)
Many thanks for sharing so many things about your life, work and thoughts, Ben !
Thank you for taking us on a journey into your own world of surreal imagination!