I was introduced to Ashley Lebedev – Bottlebell photography around 2011. Her photographs and blogs not only gave me motivation to try my own projects, It also gave me a sense of tribe. Trough Ashley's work I was introduced to a whole new world of concept thinking and creativity.
Ashley's whimsical fairytale like style, her use of everything nature has to offer and her telling a story in one single frame are a few of the things that inspires me so much. Ashley's ability to portray emotion with one single image amazes me. The first image by Ashley that caught my attention was Lith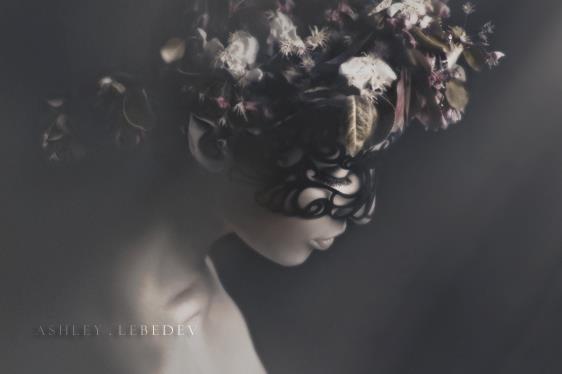 I was so bewildered by the emotion, the lighting, the story all captured in one single self portrait.
It's a real honor to have had the chance to interview this lovely artist and share a little piece of her story with the readers of the 1x magazine. Thank you for sharing all your stories Ashley!

Please introduce yourself to the readers, Ashley.
My name is Ashley Lebedev and I'm a 34 year old fine art conceptual portrait photographer. I live in the Midwestern United States with my Labrador pup Indigo, below a beautiful Honey Locust tree.
How would you describe your photography style?
I would say my work is best described as organic and historical in nature. I make storyboards that focus on honoring old folktales, medieval concepts and other historically notable events. About 95% of my work is shot exclusively in natural light.
Can you still talk about photography? Or is art a better name for what you do?
I think art is probably a bit closer to what I feel I make. I just make it through a camera and lens. A finished piece never quite resembles either a painting or a photograph, but balances somewhere down their middle.
What is it that you would like to share or show most in your Photography?
I want to unabashedly, unapologetically, inspire others to see subtle beauty and hope with their own eyes. I want people to understand that through certain visual doorways we can express ourselves, like journals. And through our own expression, we can encourage others to show their own visions. I also am very interested in relaying through the lens, the hidden elements of the human condition, particularly that in my black and white boards. I truly love trying to make my own characters while capturing something hidden within the real life of the model I work with.

How did you develop your own style?
Wow, I've done so many interviews and have never been asked this question. Thank you for the opportunity to answer it.
I guess my real penchant in life has always been how close I am to nature. I have found I always wanted to be right out in the thick of it, usually alone, quietly observing everything unfold within it. I grew up on really big farms, always falling asleep to aspens flapping in the wind, or a storm rolling onto our yard from the surrounding fields. The great plains were a magical place to grow up. I would say my style developed before I had equipment, when I was out in the fields and woods finding little treasures and pulling up pieces of grass. When I finally found photography, it was only natural to bring my ideas out into a natural environment, capturing some of that timeless unfolding as the backdrop to my stories. As for the aesthetic side, especially in regards to my sets, my mother was a full time antiques dealer. I grew up hearing the auctioneers mallet and playing in boxes of antiques that lined our garage and front room. She kept old original prints of Maxfield Parrish on the walls. There were old (Brian) Froud books lining the side tables. I had a perfect background to dream up a fantasy land, where a windy farm was always around me and old books always near my hands. As I got older I found the work of Arthur Rackham and John William Waterhouse and through experimentation and a lot of fun, playing and tinkering about, the rest is history.
What is the best piece of advice you've ever been given? Who gave it to you?
I think that's so hard to answer. Honestly, if I ever had one best piece of advice, I'm sure it came in the form of poetry. I can't pin down a line, but if pressed I'm sure Mary Oliver has some of the best advice in how she assembles a poem, and how I wished to live and see life.

When did you start photography?
2007, I think.
How did you start?
My ex boyfriend and I lived out in a cottage in Wisconsin. We traveled a lot and had a few point and shoot cameras. I think it began as just experimentation with self portraiture on those cameras, mixed with a breakup that had me move home. He gifted me with a Canon Rebel XTI, which they don't make anymore. At that time as well, being that I moved back home to the countryside and my old childhood bedroom, I found my mom's old vintage pentax and played around with it. I don't remember exactly how it started, only that it involved me walking the property with that little newfound spark and the Pentax and Rebel both bumping around on my hips. One day I made a portrait of myself I liked and found the site, Flickr, which was in its heyday. I received only a few views upon posting and one encouraging comment. The comment inspired me to make another and keep sharing. It was the first time in my life I knew exactly what I wanted to do.
Where did your passion for creating images come from?
Again, nature I'd say. People and animals all being a part of that picture. I can say books inspired me but I never had the "oomph" to go out and do anything till I went OUT and did something.
What makes you the happiest when it comes to photography and or editing?
Oh, everything. I never thought I'd love editing so much but it's so meditative and cathartic. I think if I had to pick, I like the magic that comes with working with creative teams, each of us having our strength. When you get a team out on location all believing in your vision enough to just try to best bring it to you as you see it in your head, it's really magical. I love being way out on location with assistants holding scrims, watching my makeup artist chatting about life with the model while I finish a prop or design the finishing touches on a set.

Are there parts you still struggle with?
Not very much. I feel very comfortable with what I do. Maybe sometimes I have been a bit nervous if I was directing a large team. I think my largest team was 16 people, but honestly once you get shooting all the fear falls away. I have though, been terrified of some of my larger commissions. Sometimes the expectation of a client and the time frame were quite challenging, but it always worked out.
Where do you get your ideas/inspiration from?
Everything I find beautiful: A season, an old fairytale, a country whose ground I know has never been tilled or walked upon by people. Old books, or perhaps a scarf I find in a vintage shop made out of lace. Old antique stores, great movies, love even.
What's important to you. The story? The emotion? The technical skills?
I personally think technical skills are the least important to me, though I'm very glad I learned them. It took time. What's most important to me is authenticity and quality imagery. For example, I'm a perfectionist in my storyboards and it's quite important to me that nothing looks out of place. A medieval tale can't have nail polish, or a ring on. Everything must look exact. The costuming must be authentic, the expressions must be natural. I do not like things that look quickly made or contrived.

Can you describe a little bit about your process from idea to the editing process to the readers?
I usually will get inspired by some idea, something I see and start to come up with a concept. Because I make storyboards, I try to write a 'character' for that idea. It usually starts with me writing down a name for the image, or a series of names. I keep a notepad on my phone for brainstorming. Once I like an idea I usually take to the internet, places like pinterest, to make private boards that inspire me around colors, hair, costuming. After that I will find costuming in antique stores, or online. Sometimes I will collaborate with a designer with costuming. I try to be so ready that by the time the shoot rolls around, everything from the model cast for the role, to the weather, has been already been planned and accounted for. This makes getting the shot usually quite fast.
I once even had a model get sick after about 5 shots and I'd already gotten the shot. I was so grateful because her hair and makeup took 3 hours and we'd driven over an hour to location. I felt so bad for the model but was also so proud we were all so well planned that we got it.
My process I guess is just being quite prepared, having all needed gear and assistants on hand, knowing the weather and sunrise, sky times, sunset times. I also try to prepare as much of the color palette in camera. I didn't used to do this, relying in my early years on how much Photoshop could change colors. Now I try to make the colors I want in camera with props, seasons, makeup, the right set. This is a hugely beneficial practice. Then during editing I am able to take it into another realm by modifying simple things. I work within both Photoshop and Lightroom and 100% in manual modes.
What creative solutions do you use when things don't seem to work out?
I have almost never had something not work, but I do remember a time that a makeup artist arrived unprepared for how to attach a hair prop to my model's hair and we didn't realize the hair prop was so heavy they'd rip her hair out when attached. They were also so heavy it hurt the models neck to wear. I ended up attaching the headpieces with invisible fishing line to a tree branch above her to lessen the weight. I have a treasure trove of goodies like bobby pins, safety pins, string, wires, fishing line, fake flowers, extra fabric, dresses, etc, in my car because you never know when it might come in handy.
Are there any photographers who were a great influence or even mentor to you?
I've had a few really wonderful mentors over the years, some well known, though I keep those names just for me. As for those I've never met, Sally Mann is just incredible. I love how she reveres imperfections. She makes pure magic from such simple processes. Most of my influences are painters or old illustrators though, such as Rackham and Waterhouse.
Please show us 3 of you photographs that you are really proud of and please describe why?
Thank you for this!
My favorites are probably my pieces "Elemental", "Falcon" and "The Gloaming"
They are all pieces within the Fairyland storyboard. I love them because upon completion I just felt like I'd hit the nail on the head with what I wanted to say.
With Elemental, it's a self portrait that I took after a long winter, where I wanted a character to express the hardships of being strong through such an emotional cold season in my life.

In Falcon, I had the pleasure of working with a little girl named Gabi. That was such a fun day, covering her body with little trees stuck to her body and placing a hidden animal in one in post. The light that day was perfect and she nailed what Faerieland is in her powerful expressiveness into the camera.

Lastly, The Gloaming because that shoot had me build a headdress and then a swamp in my bedroom out of flowers and flora that were only in bloom for a few weeks. The shoot was shot after I found out I had an illness and was feeling the effects of it, while my model (who was also a very close friend) was going through a bout of her own. We were both too tired to shoot anything but we did anyway, troubleshooting through that and magic came from it. The light hit perfectly. The room was filled with fog and the cracking last beams of daylight.
That picture was the first black and white in Faerieland, which is a board I never thought I'd have anything but color in. The Gloaming shows her strong expression, wearing a headdress I made out of my favorite childhood flowers. I just felt that whole shoot was an homage to strength and perseverance and I was so glad the image edited so well. It's one of the only pieces I have in my own home, so it can remind me of strength when I forget.

Can you tell me about your camera gear and editing software?
I work on a Canon Mark II. I know many have upgraded, but I find I'm always last to do so with gear.
I love my mark II.
My lenses are nearly all prime. I have a 35 mm, and 85 and a 50mm which I shoot on. My go-to lens for my board Faerieland is my 85 mm. My go-to lens for my board Dust Bowl is nearly always my 35 mm.
How do you work best? Full team? Solo?
I prefer to work solo in all planning and editing and to work with a creative team during the shoot. The more helpers on a shoot, the better. I am a fan though of editing parties. Photographers are awesome in that we all like to get together in the same room to edit (or via skype) and listen to music and hardly talk. It's a funny testament to introverts who like to still hang out while doing their own things.

Can you tell us some of your highlights? (Album covers, exhibitions etc.)
Oh, yes! Let's see. I had a twenty page spread and was given a cover in PHOTO+ in Korea. They did such a magical spread. That was a highlight, as it was one of my first magazine covers and I didn't know I had the cover until it arrived on my stoop. I've had the honor of seeing my work in maybe 20 major photographic and arts magazines over the course of the last decade, from all over the world. It's always such a good feeling seeing that work arrive into my hands. I always run away to a corner and open them alone, like I'm a little kid with a present. To be able to go into a bookstore and grab my work off the shelf is a very humbling moment, where you feel so alive. I've sat in many corner chairs brimming inside over a spread.
Beyond that, my work has been on over book covers, which is a true honor.
I've had some of my work shown in very prestigious competitions as well, like the World Photography Awards Show and similar shows here in the states. I had the honor of being asked to photograph certain celebrities and well known entrepreneurs. To be honest though, my biggest highlight is probably just when a person messages me though and tells me how my work affected their life. That's more important and it keeps me inspired to keep shooting. I like interacting one on one with people who message me those kinds of notes. I am honored anything I've ever made has the ability to inspire someone to change their life or have courage.
What would you like to say to the readers? Tip/Quote?
It took me a decade to have the guts to stop trying to fit into a genre. I'd tell newbies or people looking for their way behind a lens or in any medium at all, to follow their heart in all things. Follow the beat of your own drums. Make a story that fits you. Don't make a photo or story that fits what others already accept or what others already do. Have the guts to change the medium. When enough people do this, the industry will change.
When I began nobody wanted to see or publish work that looked like a painting that was a photograph. Major competitions didn't know what to do with it. Magazines wouldn't publish it. Galleries had what they liked and didn't bend it at all around 'new' genres. I see this changing. Galleries are still pretty tough about this but competitions and magazines have already entirely changed. The youth of the art world should use their voices and visions to help shape a better, kinder, more accepting industry. And we are!
You guys, just follow your own vision! Find what inspires you and don't be afraid to color outside the lines. There's no such thing as failure in art (there's actually no such thing as failure in anything) so long as you have the guts to listen to your own voice. Be willing to learn, but also be willing to lead. The industry needs pioneers like you.
Where can we find you? Websites etc.
Right now the best place to see my work (my site is down for a major overhaul) is my Facebook or my Instagram, until a new site is launched.
Facebook.com/AshleyLebedev
for all of my storyboards and portraiture work, sorted carefully into their albums.

Instagram.com/AshleyLebedev
for a mix of my nature photos as well as my portrait work