by Carla DLM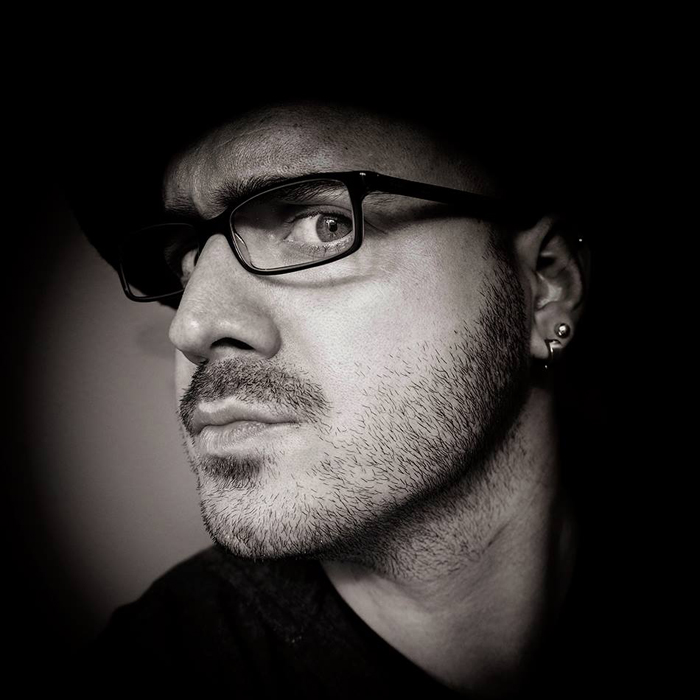 Aidan Sartin Conte is an Italian photographer and designer based in Washington DC. His artworks have been published in various international magazines and recognized with several international awards. He is the Founder and Art Director of Photographize Magazine, which has more than 1.6 million followers in Facebook.
Aidan is widely known for his original and dreamy style. His art is full of symbolism and he tries to give a surreal depiction of the world that balances thought and imagination. Regarding his work, he says his goal is originality and his ambition is to share beauty.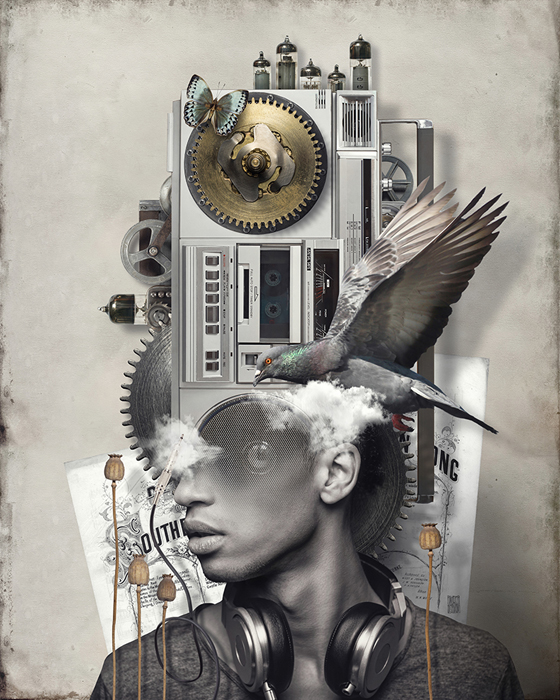 [Musicology] ♫ Modulazione di frequenza [FM]
I could not agree more on that…
It was a truly pleasure for me to interview the artist and to get to know the person. I would like to use this opportunity to welcome him to our 1X community.
Please briefly introduce yourself.
My name is Aidan Sartin Conte (a.k.a. Andrea Costantini). I was born in Pescara (Italy) where I grew up and started my training as photographer and graphic designer. I always had a great passion for art and I turned my passion into a profession, initially becoming an illustrator and graphic designer and an artist later. Since 2009 I work and live in Washington DC.
I had the pleasure of meeting you personally and also getting to know your artistic view. In your own words who is Aidan Sartin Conte? Is there any difference with Andrea Costantini?
Aidan Sartin Conte and Andrea Costantini are the same person.
I think that change was necessary, I would say mandatory for people like me. A condition, a recurrent behavior, a way of seeing things, a style or a name. During my entire life I have looked for, pursued and in some cases achieved originality, a uniqueness of a thought, new ideas in my acts and artworks. This also applies to my real name. Simple, trivial, easily forgotten, and more importantly "too common".
So, as every respected artist, I decided to anagram my common name and make it "unique". This pseudonym will be my signature from today and in the years to come.
I admire the exquisite level of detail in all your works. Can you please describe your work and creative process? Please add examples.
I use the most advanced technology to express myself but, in reality, my projects are born of paper and pencil: sketches and notes transform into thoughts and images. My art is full of symbolism and I try to give a surreal depiction that balance thought and imagination.
The color is a focal point in my composition. My artworks are linked to the concepts of memory, dream, a different state of mind; they apparently lack logic because it's in this gray area when your mind gets lost, that fantasy will prevail.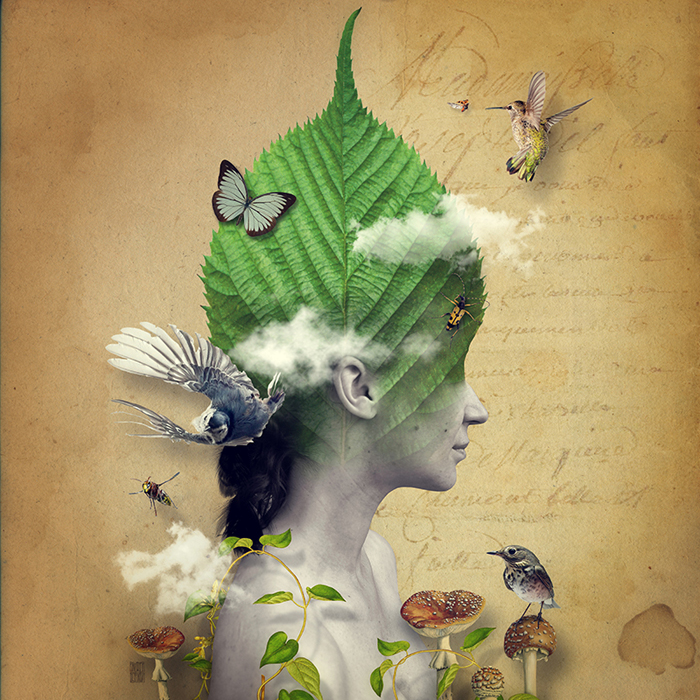 [Symbiosis]


The work of artists continually changes and evolves with time. How has your art evolved in your own words? Please provide examples.
In a certain way I can say that my art never changed over time. I was doing collages with glue and paper when I was in the High School and I'm still doing it, I just moved to technology; what was manual before became digital and expanded but the core of my art, the real vision was already there 20 years ago. But it's not about how you express your art, what pushes every kind of art forward is: humans and their ideas. If you keep working on your vision, looking for improvement, aiming at perfection you will become an artist that can be recognized over time.


What has been the biggest obstacle that you have encountered in your creative journey?
Time. I wish every day had 48 hours. I wish I could travel back in time and start everything again. Time travel has always been one of my favorite dreams.
What is the distinctive feature that makes your work unique? How does it compare to other art forms?
I don't know if we can consider my art unique. I love artists such as Salvador Dali, Yves Tanguy, Pablo Picasso or Georges Braque. Renaissance also has an important place in my artwork's composition.
Over the years I always aimed to be original by taking inspiration from the great artists of the past and by traveling with my mind, pretending to have a coffee with Modigliani, Henri de Toulouse-Lautrec and many others, dressed with my nowadays clothes and my modern sneakers, drinking wine in the famous Parisian cafés in Montmartre and talking with them about how art will evolve. I'm just a piece of a puzzle in the great and immense variety of the global art.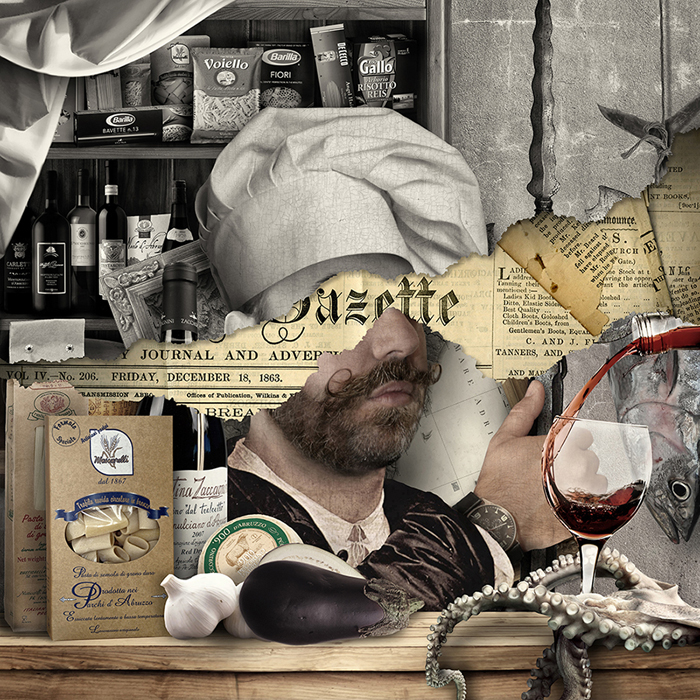 [AntiQueFuture] • Cibi condimentum esse famem
[Imaginaria] [007]


What has been the highest point of your career so far?
Hard to say. Maybe winning the 3rd prize in the category of digital art at the "X International Biennial of Contemporary Art" in Florence, were more than 2000 artists were present. It was totally unexpected and a great achievement.
What are your future projects and collaborations?
A source of inspiration for me is the majesty of architecture. I'm fascinated by what mankind has managed to build over the centuries. As a photographer I love to take pictures of buildings, monuments around the world and mix them in my art. In order to take these interests to a new level, I recently started an exciting collaboration with NY based artist Carla DLM (member carlidlm). She has her very own particular style and the idea to mix our skills together conquered me. The power of her pictures and her vision melts with my perspective and will certainly be the seed of many ambitious projects in the future.


It is well known that you are the founder and publisher of Photographize Magazine. Please tell us more about it
All idea came to my mind in January 2010. I wanted to create something new after I moved to Washington DC from Italy. My desire was to make the beauty of art available for everybody. At first, I involved some of my artist friends and then I ended up contacting more and more fantastic artists from all over the world!. Unexpectedly it has been a complete success, all of them responded with enthusiasm and my adventure started to become bigger. Photographize raised over 1.6 million followers on Facebook with over 5 million readers around the world. It has also been a success on platforms such as Issuu and Instagram.
Photographize is about to take the next leap into the future. Carla DLM (member carlidlm) will play a key role in this evolution. We have plenty of exciting developments in preparation. Please stay tuned, because great things are coming up in the next months.
I am sure we will be hearing a lot about Aidan Sartin Conte in the future. What are your ambitions and goals for the next 1-5 years?
My goal is always the same: "originality". My ambition is to share beauty. Beauty has always had a unique charm for me. Do not settle for simple photographs. If photography is your path you need to find something unique to make your art different. Today many people are able to take pictures, but only a few are able to be truly original. As I always said, an original is worth more than a copy.