Close
Blog
Purple weekly theme winners
Posted 22 days ago
Our deepest purple congratualations to Marcel Rebro, Jose Beut and Alfredo Yanez winners of weekly theme Purple! More good news is that we have speeded up the winner's gallery page a lot, try it out!
The theme for this week is Autumn. It's now only 2 weeks left to participate in our exclusive competition 1x Photo Awards 2013. Since we have only received about 1500 entries so far, it's a much greater chance of winning this year than previous years. The total prize value is over $9000.


1st place, "Prague in Purple" by Marcel Rebro.
Photo book Passion is now shipping
Posted 12 days ago
Photo book Passion is now finsihed printing and has started shipping! The images are bigger than last year, the printing is top notch and the book looks and feels really amazing. Thanks to all our fantastic photographers participating and making this such a great piece of art!
Check out a sample of images from Passion here.

Make sure to enter a correct shipping address in the link we have provided in the email we are now sending out to everyone who has ordered the book. In a big number of orders the name or country of the receipient is missing, so please double check your address and make sure it's correct before we send out your book.
Photo book Passion has now started shipping! Click image for more info and to order.
New membership agreement
Posted 20 days ago
The membership agreement has been updated mainly concerning print sales. We have simplified the process of selling prints and also made it possible to offer all your photos sold on 1x through our partners, which are already very successful at selling prints and let you reach a much wider audience of customers. Our current partners are Gallerix, selling canvases, prints and framed prints and Photowall, selling wall murals.
The license is still non-exclusive which means that you can sell images in other places as well. Photographers will get 50% of the profit for each sold print on 1x and 50% of the royalty paid to 1x by our partners. You will get a pay out at the end of the following calendar quarter after the image was sold.
If you have already licensed some of your photos to other art agencies, galleries or stock photo sites and have certain restrictions about how they can be used by 1x or our partners, contact us at support[at]1x.com and we will make certain exceptions just for you and work something out together.
We want as many photos as possible on 1x to be available, because the more pictures that are available the more likely it is that customers will buy photos on 1x and that you will sell photos. If you go to an art gallery to buy prints and only a few of them are availalbe and the ones you like the most are not availble you are likely to go to another gallery where many more photos are availble instead. Many photographers don't realize that your photos have a big value for someone and that there are people who would like to have your photos on their walls. It might be surprising, but often photos by previously unknown photographers sell the most through our partners.
We will never force anyone to sell prints who doesn't want to and it's completely up to the photographer which photos to make availble for sale or not. You can select and deselect photos to sell in "Account settings" > "Select photos to sell".
When you upload photos to 1x there is a check box "For sale" which is checked by default to make it easy to make newly uploaded photos available. If you don't want to sell these photos uncheck the checkbox. If you forgot to do so, go to "Account settings" > "Select photos to sell" and deselect any photos you don't want to sell. There will soon be an option in "Account settings" to either have this setting on or off as default so mistakes are prevented.
To sign the new agreement go to "Account settings". If you reject the new agreement you will not be able to continue using 1x becuase it's not possible to have different user agreements for different users and because we have made some changes to the site which are not covered by the old agreement. If you have any questions about the new agreement send an email to support[at]1x.com.
We also have a cooperation with Eurographics, one of the biggest prints providers in the world. Eurographics will claim an exclusive license for the photos they select, but those photos will likely sell a lot, since Eurographics have thousands of stores all over Europe. Some 1x photographers have already earned over 1000 eur from Eurographics just selling a single picture. The Eurographics license is separate and you need to sign it separately in "Account settings" if you want to participate.
Winners of weekly theme Dogs
Posted 30 days ago
Adrian Popan, Jacob Tuinenga and Justyna Garczyk-Kleszcz are the talaneted winners of weekly theme Dogs. A big barking congratulation to you!
This week's theme is Purple, so upload anything purple or a photo with a purple feeling or idea!
Also don't miss out on 1x Awards 2013, with the chance to win $2500 and a total price value of over $9000! It's now less than a month remaining to enter!
1st place, "Family provider" by Adrian Popan.
2nd place, "Family portrait" by Jacob Tuinenga.
3rd place, "Peekaboo" by Justyna Garczyk-Kleszcz.
New 1x mobile site launched today
Posted 1 month ago
We have now released our new mobile site with a completly new way to browse 1x by scrolling, swiping and tapping with your fingers. It's very easy and a lot of fun to use. You have to experience it to see what we are talking about so pick up your smart phone or tablet and browse to 1x.com!
Help us to find the best photos in the world by clicking the "Curate"-button in the mobile site and vote on photos. The more you vote the higher you will rise in levels which means that your votes will carry a much greater weight.

If you go to 1x.com and add it to your home screen it will be very much like a native mobile app.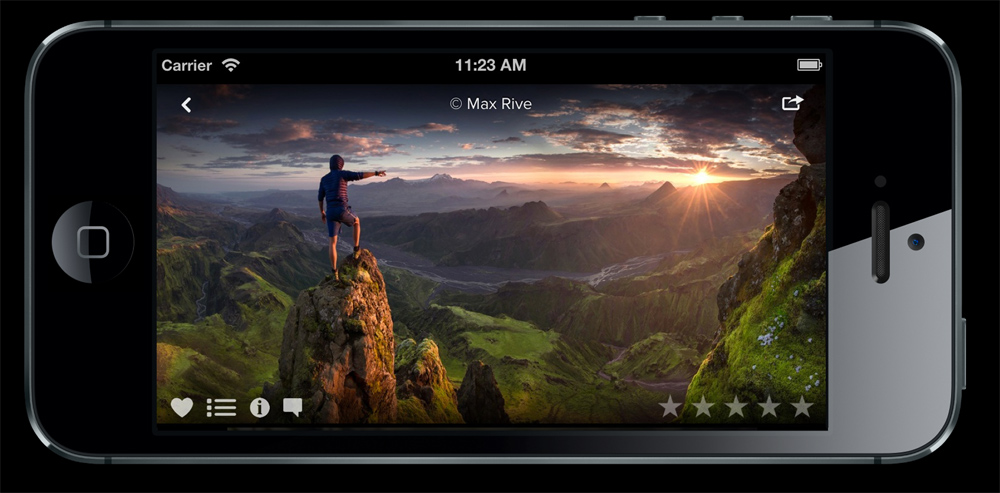 Enjoy photos in the new 1x mobile site by browsing to 1x.com in your smart phone or tablet.